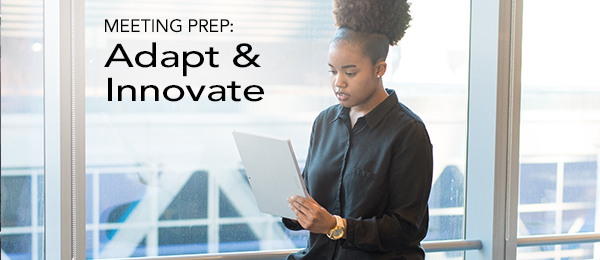 The Next Normal: Designing Conscious-Driven Meetings
August 19, 2021
Undoubtedly the unexpected challenges over the past year compelled organizations to evolve, reimagine, and transform their operations significantly. While many eagerly embrace a reimagined 'next normal', there are some that remain cautious with resuming in-person meetings or participating in group events. Though there may be those that are experiencing hesitancy with the Delta Variant, what this past year has taught us is resilience and adaptability, and organizations can still have successful events that are meaningful and engaging when they put their attendees at the forefront.
'Next normal' events focus on a leadership approach that leads with trust, authenticity and empathy. The Forum discusses 'The New Leadership Model' and how association leaders are adopting new approaches in the workplace, spurred by a pandemic-induced remote work environment, greater reliance on technology, and commitment to diversity, equity and inclusion (DEI). Understanding the motivating factors for event attendees will pave the way to designing a successful in-person, virtual or hybrid event experience. One way to gain valuable insights into your attendees' needs is to distribute a pre-event survey soliciting specific feedback that can be used to customize a unique event experience that keeps your attendees top of mind.
In addition to understanding attendee needs, it's important to understand the types of preparedness capabilities that are available when selecting the right venue. Ensure that the facility has strict health protocols, a range of technical abilities and flexible meeting options for the comfort and safety of all attendees.
Health and safety protocols – As a Global Biorisk Advisory Council® (GBAC) STAR™ facility, we go to great lengths to ensure our visitors are safe and comfortable; that's why we've invested in an HVAC system that uses 100% outside air and MERV 14 filtration and assigned designated areas for visitors. Select a facility that ensures proper OSHA health and safety measures are implemented.
Set expectations around the experience – Let virtual attendees know how they can chime in to the discussion and remind in-person attendees to be mindful of the virtual guests. With careful planning and vigilant facilitation, reimagined meeting events can still be engaging for all. 
Rethink event logistics – From how you plan to greet attendees to refreshments, and attire, design an event that takes certain precautions to keep fellow meeting attendees safe and to help ensure the safety of the facility staff.
Flexible event options – Whether in-person, virtual or hybrid meeting, choose a state-of-the-art facility that offers multiple event platforms with a range of AV and technology setups to ensure your next event runs smoothly.
To learn more about how to design a conscious-driven event, check out our Meeting and Event Planning Resources, or contact us to design your next reimagined event, together.