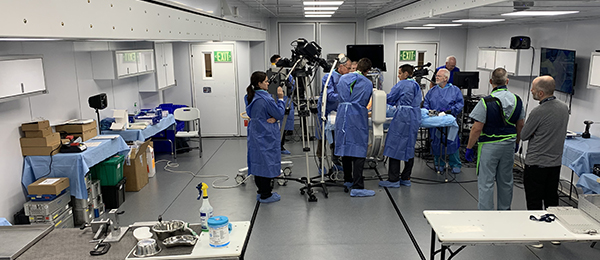 OLC Mobile Lab Offers Bioskills Training Options
August 22, 2022
The OLC has found an incredible way to extend the medical lab training experience beyond the walls of the OLC's 29-workstation bioskills lab in Rosemont – the OLC Mobile Lab.
Introduced in 2021, this 1,100 sq. ft. mobile lab is custom built to recreate an authentic bioskills training laboratory, that travels as the trailer of a semi, and expands on-site – either inside in a large convention center or outside – to nearly triple in width. As a self-contained lab, physicians and industry team members can arrive, gown up, and immediately start practicing simulated procedures in a well-equipped training environment with full AV Livestreaming capabilities.
Large imaging systems or robotic equipment can be easily brought in through the center doors and with the hydraulic lift gate and changed out for different demonstrations. There's an option after demonstrating an advanced procedure, new ortho joint replacement or arthroscopic technique, to then conduct small group labs for surgeons to practice this new procedure supported by leading surgeons and industry medical education team members.
With options for multi-camera filming, high-quality audio, and livestreaming to conference attendees in an auditorium, show floor theater or trade show booth, the OLC Mobile Lab is a great choice for association-sponsored educational demonstrations for a medical conference or industry partners to showcase new equipment, implants or procedures with leading surgeons.
Plus, the mobile lab is staffed by the professional lab management team from the OLC Education & Conference Center, bringing an ideal setting for successful physician learning, teaching and training in a convenient mobile environment where needed.
Want more details on our capabilities?  Contact us with your questions and needs and see more specification details here.
Our Recent 2022 Event – AOSSM 2022:
The OLC Mobile Lab was recently featured at the 50th Anniversary AOSSM 2022 Annual Meeting in Colorado Springs, bringing together US and international orthopaedic surgeons to learn from today's sports medicine world leaders with three days of demonstrations – July 14-16, 2022.
For this event, all demonstrations and trainings were conducted by four leading Orthopaedic equipment and device manufacturers.

July 14, 2022 – Vericel
Thursday's demo from Vericel featured Michael Banffy, MD performing a MACI demonstration assisted by Johanna Oda, PA.
July 15, 2022 – Zimmer Biomet and Smith+Nephew
Friday's first demo from Zimmer Biomet presented Rotator Cuff Repair by Marcus Rothermich, MD and Michael Ryan, MD.
Friday's second demo from Smith+Nephew also presented Rotator Cuff Repair with Biologic Augmentation by Michael Freehill, MD assisted by Gregory Cvetanovich, MD.
July 16, 2022 – Arthrex
Closing out the lab, Saturday's demos by #Arthrex included Wiemi Douoguih, MD and Rachel M. Frank, MD who performed the ACL Repair vs Reconstruction demos, with moderator Asheesh Bedi, MD in the #OLC Mobile Lab.
Each of these industry partners brought in the equipment they wanted for the demonstrations and conducted successful events livestreamed to their tradeshow booths and to a monitor and seating area on the show floor just outside of the OLC Mobile Lab.
Following the demonstrations, several of these companies conducted successful training labs, with some AOSSM 22 attendees practicing these procedures.