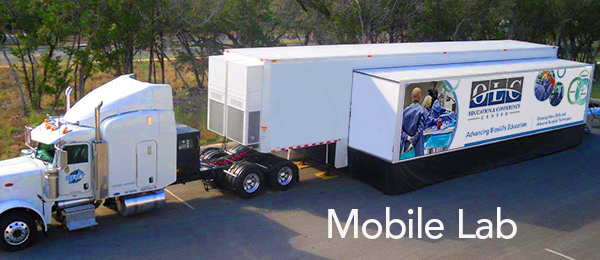 Mobile Bioskills Training Lab Launches in Nashville
June 22, 2021
"Tell me and I forget, teach me and I may remember, involve me and I learn." 
     – Benjamin Franklin
There is no better way to learn than through hands-on experience. For the medical community, this means training in a bio-skills lab. However, professional time constraints, travel restrictions and space limitations can sometimes make it impossible. Not one to shy away from a challenge, the OLC Education and Conference Center set out to provide the ideal setting for physician learning, teaching and training in a convenient and mobile environment.
Introducing the OLC mobile training lab. Our mobile lab is custom built to recreate an authentic bioskills training laboratory. Completely self-contained, physicians can arrive, gown up, and immediately start practicing simulated procedures in a safe training environment.
What's inside our mobile lab?
1,100 sq. ft. of "real-world" simulated operating room space
6 multiple training stations
Bioskills procedure tables
Surgical grade instruments
Gowning rooms
C-arm imaging systems
Integrated audio and visual capabilities
WiFi
Tool washing and sterilization equipment
Self-contained power generation and water and waste containment
Specimen management and storage
The mobile lab would not be complete without the experienced OLC team of lab managers and coordinators, who work hard to ensure that events in the mobile lab are as seamless and successful as events in our on-site world-class clinical setting.
This mobile option expands our reach and offers new opportunities for physicians, surgeons and medical professionals from around the world to develop and advance surgical skills.
THE DEBUT EVENT
Don't miss the debut of the OLC Mobile Lab at the AOSSM-AANA Combined 2021 Annual Meeting, the most comprehensive level of education and research from today's sports medicine and arthroscopy world leaders. Join us July 7-11, 2021 in Nashville, Tennessee.
We will be live streaming demos done in the mobile lab with prominent surgeons demonstrating innovative techniques. A full schedule can be found here.