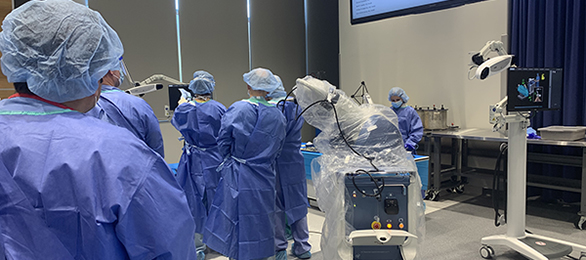 Looking Ahead to 2022: Latest Trends in MedTech, Orthopaedics
November 29, 2021
As we close in on the end of any year, we pause to look ahead to the latest market trends and outlook across orthopaedics and medical technology. In the wake of the COVID-19 pandemic, there have been major changes, disruptions, and advancements in medical device technology, like we've rarely seen before.  What can surgeons, fellows, residents, and medical device manufacturers look forward to as we enter a new phase of the world's response to and recovery from the global pandemic in our 'next normal'?
U.S. market size grows significantly: This year alone, the U.S. orthopedic devices market share was valued at over $19.6 billion. According to the American Academy of Orthopedic Surgeons, more than 900,000 people undergo knee replacement surgeries in the U.S. every year. The National Center for Health Statistics released that the number of joint reconstruction surgeries is rising with 5.2 million musculoskeletal surgeries being carried out in the U.S. every year. These factors and conditions have led to the increased production of advanced orthopedic devices to offer care and comfort to meet patient demand.
Technological advancements in orthopedic devices: The US orthopedic devices market size is projected to be more than $29.2 billion in value by 2027. Orthopedic procedures are witnessing a high success rate due to the technological developments in these devices. Several industry players are focusing on the introduction of newer technologies in areas such as hip, knee, shoulder, and ankle implants including Medtronic, Zimmer Biomet, and DePuy Synthes who offer orthopedic implants to reduce post-surgical complications. Stryker and Smith & Nephew, have developed implant technologies to address metal sensitivity complications related to joint replacement implants and reduce traumatic conditions.
Spinal devices gain strong momentum: Spinal devices held over 19% share of the orthopedic devices market last year. The National Center for Biotechnology Information estimates around 2.4 million people in the U.S. to be diagnosed with symptomatic lumbar spinal stenosis this year. Since these devices have many benefits, such as correcting deformities, creating a smoother fusion between vertebrates, and enhancing spine stability, spinal devices are one of the most preferred products to treat vertebral misalignments and degenerative disc changes.
As a GBAC STAR™ facility, we're proud to work with leading medical device manufacturers, Medtronic, Zimmer Biomet, DePuy Synthes, ConMed, Arthrex and Stryker, to advance patient care by promoting, training and certifying surgeons on the newest emerging techniques, including robotic surgical equipment, Bioskills labs, medical events and workshops. From our skilled staff to our 14,000+ sq. ft. state-of-the art facility complete with the latest AV equipment and training, multi-functional event spaces, and COVID-19 preparedness protocol and policies, we remain committed to ensuring each event is a success here at the OLC. Contact us to learn more.