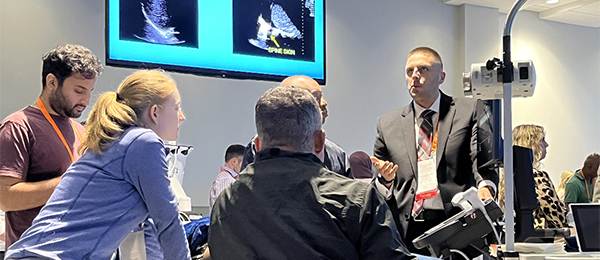 The OLC: A Homebase for Medical Education
October 3, 2023
For more than a decade, the Society of Critical Care Medicine (SCCM) has offered an in-person, critical care ultrasound course spanning two days, interspersed with lectures and interactive training.
The Critical Care Ultrasound: Adult or Pediatric and Neonatal Program brings together experts, faculty, and advanced practitioners at the cutting-edge of critical care and ultrasound diagnostics from across the nation. And over the last 3 years – The OLC has been home base.
In a recent discussion, Sarah E. Baine, MD, Chair of the Ultrasound Committee at SCCM and Brandon M. Wiley, MD, Vice Chair of Critical Care Ultrasound Committee at SCCM provided their perspectives on the OLC's pivotal role for the event's success.
A Home Base for Learning
"This has given us a home that we come back to."
Sarah Bain, MD, is division head of cardiovascular thoracic and structural heart anesthesiology at Virginia Mason Hospital in Seattle, Washington. As Chair of the Ultrasound Committee, she emphasized the significance of returning to the OLC for the third consecutive year.
"We come back every year. It's like having an actual home for our course. We host both adult and pediatric courses – so each course can and does have their own specific discussions. The staff knows us and already anticipated our needs before we get here." Seamless planning and execution is key to training success. At the OLC, we try our best to anticipate needs, making the event more comfortable and efficient.
Spacious Facilities
"This is a wonderful place to have a course as it's fairly large we have 25-30 faculty at a time with 90-120 attendees – we do this for 2 days in a row."
One of the standout features of the OLC as is its spaciousness, which can accommodate a large number of attendees comfortably. With separate auditoriums for adult and pediatric courses, the OLC facilitates tailored lectures, presentations and hands-on bedside training with each group. As Dr. Bain suggests, this arrangement allows for a more focused and productive learning experience.
Location, Location, Location
"A course like this is really exciting, we have faculty arriving from all over the US, in fact we've had international faculty as well. Different techniques, different styles of scanning, different ways to interact with patients and participants"
Brandon M. Wiley, Chief of Cardiology at LAC+USC Medical Center, and Vice-Chair of Critical Care Ultrasound Committee at SCCM, stressed the importance of having diverse faculty from various locations across the nation. The OLC's convenient location near O'Hare International Airport and Downtown Chicago enables attendees to arrive from all over the country. "Being able to fly in, and get here in an Uber within 10 minutes is really incredible. We're able to work at this facility all day and even make our flights back. It improves attendance for the course, allows participants to get here pretty quickly – and allows us as faculty members to do this every year."
This diversity of faculty brings a wealth of different techniques, scanning styles, and patient interaction approaches, enriching the learning experience for all participants.
Cutting-Edge Learning Environment
The OLC's design fosters an optimal learning experience, making it a standout location for medical education.
"I've done a lot of ultrasound courses in last 10 year – this is easily the best setting." Dr. Wiley highlighted the OLC's advanced broadcasting options and flexible layout for dynamic, hands-on courses such as this. "There's huge screens to use – we're able to broadcast a lot of the images that we want to be able to teach. It allows enough space to work well with the participants, and with the standardized patient that we have. Again – it's an incredible facility."
Supporting Unique Courses On November 14-16, join Dr. Wiley at the OLC for SCCM's Critical Care Echocardiography Review Course. This exciting program, held in partnership between the Society of Critical Care Medicine and the American Society of Echocardiography explores all aspects of echocardiography in critically ill patients and prepares for the critical care echocardiography board exam.
"We have a nice space with great didactic lectures and time afterwards to do hands-on scanning. It's really a one-of-a-kind course in the US."