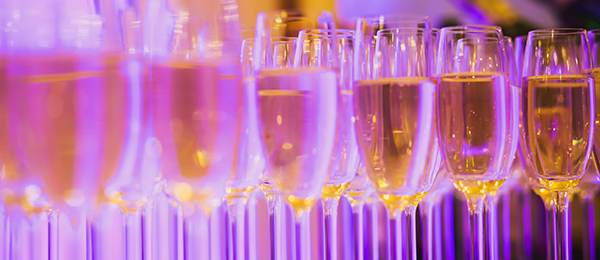 The Essential Corporate Holiday Event Planning Checklist
August 21, 2017
It's time to make a list and check it twice…for your annual corporate holiday party or year-end appreciation event.
Whether they're big celebratory bashes or small appreciation events to recognize a successful year, corporate holiday events have been on the rise. Last year Challenger, Gray & Christmas found 80 percent of companies planned to host holiday events.
Meeting and event planners know there are lots of details to think about with any event. We've created this handy corporate holiday event planning checklist to keep track of important milestones.
6 Months Before the Event:
1) Decide on the type of party
Is it a company-wide event? Are only employees invited, or plus-ones too? Formal or casual?
Make key decisions like these early as they are important foundations to the rest of your event planning success.
2) Think about the guest list
This will likely change as you move throughout the planning process. But come up with an estimated guest list number to help estimate your budget and ensure the venue you choose is large enough to host all of your guests.
3) Establish a budget
Use last year's budget as a starting point for discussion. If you know you'll have a larger or smaller guest list, or you're moving to a different venue, adjust your budget accordingly.
4-5 Months Before the Event
1) Identify your target date
Our best advice: Choose your event date early. Many companies and associations book dates during the summer months for the best availability.
And while Friday and Saturday nights are typically most popular dates, that doesn't mean you have to plan your event for those days. If you plan your event for an "off" time such as a Sunday or Wednesday night, or early in January, you may find your venue and other vendors have greater availability – and more guests are able to attend.
2) Find and reserve the venue
Once you have a target date in mind and the expected number of attendees, call possible venues to ask about availability. It's good practice to have a few backup dates too.
When evaluating possible venues, don't forget to think location accessibility and guest parking. If you have guests driving or flying from other destinations, a venue located close to a major airport or other amenities with ample parking adds convenience.
3-4 Months Before the Event:
1) Send a "Save the Date"
The holidays are usually a busy season for your guests. Make sure they save the date to attend your corporate holiday party by sending out a save the date announcement.
Depending on your event budget and vibe, announcements can be casual or formal. Send the announcement out at least a few months before the event so guests can block time in their calendars.
2) Pick a theme
If applicable, start brainstorming possible themes. Remember, a theme doesn't have to be big and bold. You may decide to simply use your event to celebrate a successful year, acknowledge challenges the team overcame, or recognize key goals that were accomplished.
3) Line up key vendors and staffers
If your venue doesn't offer on-site catering, make sure to book a caterer several months before your event.
Depending on your event needs, you'll also want to make sure other special staffers, like photographers, DJs, hosts or speakers, reserve the date in their calendars too.
2 Months Before the Event:
1) Decide on food and beverage
As you get closer to the holiday event, decide on food and beverage menus. Choose options that fit both your theme and budget.
For example, elegant passed hors d'oeuvres or an upscale buffet usually creates a festive, casual feel while a seated formal dinner or family-style meal is typically used for more formal recognition or celebration events.
Don't forget to plan for any food allergies or dietary restrictions too. Thinking about options early ensures your guests have plenty of options to choose from.
2) Send invitations
Even if you've sent a "Save the Date", send an official invite to track and manage RSVPs. Ask for all RSVPs to be returned no less than two weeks before your event so you can finalize catering counts and room set-ups.
Today more companies use electronic invites, with custom graphics or animations to support the event theme. You may also decide to follow-up the first round of invites with additional reminders for those who haven't yet responded, or even printed invitations if your goal is to create a memorable experience.
1 Month Before the Event:
1) Schedule a site visit
Bring together any key vendors and company staff for a site walk-through. This gives you a chance to visualize the event space while there is still time to make changes to room set-ups, add décor and or make adjustments to day-of-logistics.
2) Finalize AV and other equipment needs
Don't wait until the last minute to decide you need audio-visual support. As part of your walkthrough, make a list of AV equipment that's needed – including options for playing music or showing a video to create a celebratory ambiance.
1 Week Before the Event:
1) Do the last confirmation call
Call the venue, caterer, AV technicians and any other vendors to confirm everything is all set.
2) Double-check your to-dos
Go back and make sure everything has been crossed off your checklist. Once you've confirmed everything is ready to go, it's time to get ready for the event! Remember to take time during the event to enjoy all your hard work.
If you're planning a holiday party or year-end appreciation event, contact the OLC's event management team for personal concierge service to handle all your meeting, catering and AV needs.