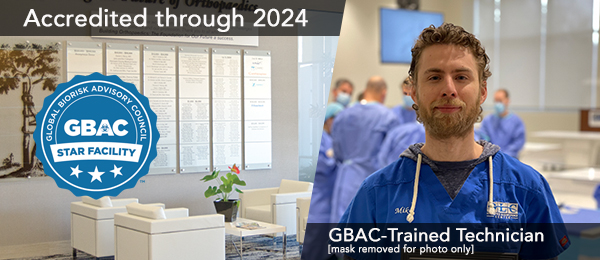 OLC Receives GBAC STAR™ Facility Accreditation Through 2024
January 27, 2022
The OLC is thrilled to announce that it has achieved Global Biorisk Advisory Council® (GBAC) STAR™ facility accreditation through 2024. GBAC is recognized as the "gold standard" for cleanliness and disease prevention for prepared facilities. This accreditation means that the OLC has established and maintained a cleaning, disinfection, and infectious disease prevention program to minimize risks associated with infectious agents like the novel coronavirus.
Safety of our visitors is always of the utmost importance to us at the OLC, which is why we became GBAC certified back in 2020 as part of our response to the COVID-19 epidemic. To achieve GBAC STAR™ facility accreditation, the OLC was required to demonstrate compliance with the program's 20 core elements, which range from standard operating procedures and risk assessment strategies to personal protective equipment and emergency preparedness and response measures. This effort was led by team member Michael Owca, who oversees the OLC's cleanliness and disinfecting program.

OLC's New GBAC-Trained technician
Michael became a certified GBAC-Trained technician in November 2021 through ISSA, the world's leading trade association for the cleaning industry. Michael had this to say about his experience taking the course:
"The GBAC technician course was an in-depth course about  the effect of COVID-19 and Bloodborne
Pathogens can have on a business and the ways to combat the virus and ways to keep yourself and others
safe by using the right chemicals to clean, knowing how long Covid and other viruses can live on hard
surfaces and how to determine workplace hazards." 
Michael's responsibilities for maintaining our accreditation include maintaining compliance on elements such as managing all related documentation, training staff on standard operating procedures, executing audits and inspections, and ensuring our facility has an emergency response plan in place. As part of the accreditation requirements, Michael meets annually with a GBAC representative to review our documented processes as well as any updates that occurred during the year.
After one year of accreditation and compliance with GBAC requirements, the OLC was then awarded accreditation through 2024. This extension requires Michael to annually provide updated documentation demonstrating how the OLC and staff will carry out a comprehensive cleaning and disinfecting process, which he reviews with a GBAC representative at an assessment meeting.
Our facility is proud to provide this additional peace of mind to our clients that we are doing everything we can to create the safest and healthiest environment possible as we continue to navigate through these unprecedented times.
As a GBAC STAR™ facility, we're proud to work with leading medical device manufacturers, Medtronic, Zimmer Biomet, DePuy Synthes, Smith+Nephew, ConMed, Arthrex and Stryker, to advance patient care by promoting, training and certifying surgeons on the newest emerging techniques, including robotic surgical equipment, Bioskills labs, medical events and workshops. From our skilled staff to our 14,000+ sq. ft. state-of-the art facility complete with the latest AV equipment and training, multi-functional event spaces, and COVID-19 preparedness protocol and policies, we remain committed to ensuring each event is a success here at the OLC. Contact us to learn more.