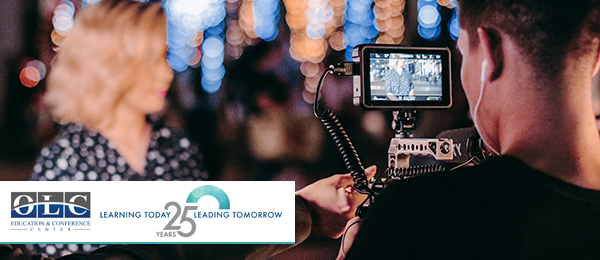 Livestreaming a Meeting? Use this Planning Guide
April 3, 2020
When unforeseen circumstances derail plans and meetings and events are postponed, a livestreamed meeting can help planners engage and communicate with audiences.
But what if you've never livestreamed a meeting or event before?
From promotion tips to ensuring the experience is engaging and compelling, use this planning guide to ensure a smooth livestream from start to finish.
1. ESTABLISH YOUR GOALS
There are many ways to use a livestreamed meeting, including:
Educational presentations and workshops: teach attendees something new
Virtual training sessions: share valuable information and teach new skills
Networking: facilitate new connections and information exchange
Product launches: introduce or expand awareness about new products
Employee town halls: bring together remote teams to share relevant information or news
Once the goals are established for the livestream, you'll have a firm foundation to continue planning.
2. KNOW YOUR AUDIENCE
Face-to-face success hinges on understanding audiences' careabouts and top-of-mind concerns – and the same applies to any livestreamed meeting or event. When it's easy to click away or tune out, attendees stay engaged when their needs and expectations are met.
And when it comes to virtual formats, it's especially important to understand audience demographics, including comfort with tech applications. Some audiences adapt easily to a virtual format, while others need a little more instruction.
A deep audience understanding drives how to make it easy for all attendees to participate and achieve their goals – whether that's to learn, network, or another objective.
3. SELECT THE TECHNOLOGY PLATFORM AND DELIVERY MECHANISM
Facebook Live. Zoom. GoTo Meetings. WebEx. Custom applications.
The list goes on and on, with many different livestream technology platforms and delivery mechanisms available today.
Knowing there are pros and cons to each, you'll need to decide on the platform and delivery mechanism that best meets your goals and audience's needs. As an example, DIY platforms like Facebook Live or Zoom are easy to pilot, working well for short presentations and casual small group discussions. However, broadcasting from a home office may be seen as unprofessional and some audiences may have challenges accessing or downloading the required software within their corporate firewalls.
Other times, broadcasting from a dedicated studio wired for livestreaming makes more sense, especially as a more seamless approach designed for larger worldwide audiences, technical demonstrations or trainings, or recording meeting content for additional usage. Plus, meeting venues with dedicated studios add professionalism, and typically include all necessary audio/visual equipment and production staff.
In the case of a complex livestream meeting or when a livestream compliments a face-to-face event, a venue with a dedicated broadcast studio adds professionalism. And by providing all necessary audio/visual equipment and knowledgeable and experienced production staff, the delivery and attendee experience is flawless – and less stressful too.
4. PLAN YOUR PROMOTION
Livestreamed events need to be marketed just like a typical live event. Get the word out through social media, email marketing, websites, PR and more – especially if the livestreamed event is for the general public.
For example:
Use social media posts to highlight speakers, session previews, or a tutorial video on how to log into the livestream
Create and use a hashtag for the livestream, encouraging followers to do the same
Promote the livestream event in your email newsletter with links to the dedicated meeting webpage
Don't assume every attendee is familiar with how to join a livestreamed meeting. Provide detailed instructions in email invitations and confirmations, as well as how to contact support with any technical questions.
5. DESIGN THE CONTENT AND AUDIENCE INTERACTIVITY
If a speaker is boring or presentation content lacks engagement at a face-to-face event, the same happens in a livestream meeting. Crisp content, dynamic speakers and audience interaction are critical to keeping attendees engaged in a livestream.
Because constant distractions surround attendees, don't expect to keep attention spans for an entire day. Structure and limit the livestream agenda to respect people's time and other commitments.
Involve attendees, and test learning and retention by incorporating audience engagement techniques through the livestream, such as polls, chats, contests and moderated Q&A sessions. Real-time communication and interactivity builds and keeps connections going – even when attendees aren't all in the same room.
6. REPACKAGE THE LIVESTREAM CONTENT
Once you've made it through the livestream, leverage your hard work and excellent content. Repurpose the livestream recording by offering it to attendees to re-watch or offer edited segments to those who didn't attend to reach a broader audience.
Whether it's to accommodate a postponed event or to add a digital component to a face-to-face meeting, adding a livestream is a powerful strategy for extending event reach and attracting a larger audience.
Contact us for more information about hosting a livestream in our dedicated HD broadcast studio.