IAEE Hosts Successful Women's Leadership Forum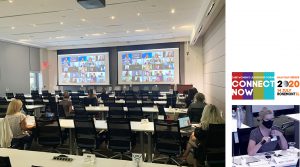 August, 2020 –The International Association of Exhibitions and Events (IAEE) is the leading association for the global exhibition industry. Their Women's Leadership Forum held one of their regional half day events focused on topics that are unique to women in the exhibitions and events industry at the OLC – their Host Partner – in July.
Pivoting from their large in-person events, IAEE planned their July 14, 2020 Women's Forum as a hybrid event from the start with the option for local attendees to attend in-person and both additional local and out of town attendees being able to participate in the event virtually. Two of their key presenters – Jeska Brodbeck, President, Be Light Consulting and Claudia St. John, SPHR, SHRM-SCP, President, Affinity HR Group – were also virtual.
The OLC team worked with the Women's Forum on creating a small group meeting in one of their spacious auditoriums, while following appropriate safety protocols for physical distancing.
This was one of several hybrid association events held at the OLC in the second half of 2020.
Contact us about hosting safe in-person meetings or training events at the OLC.
Learn More about Association Meetings at OLC