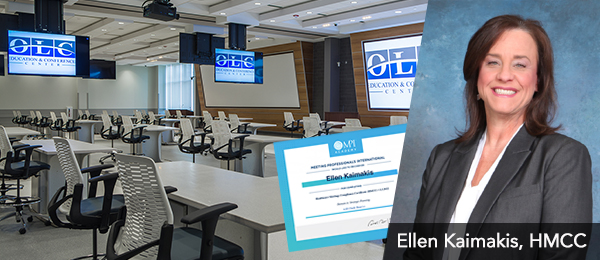 Healthcare Meeting Compliance Certification Ensures Meeting Compliance at OLC
June 2, 2022
Here at the OLC, our dedicated team has been putting in extra effort to earn certifications that will benefit our clients and their experience at the OLC Education & Conference Center. One of the most recent accomplishments is that our long-time staff member and Lab Manager, Ellen Kaimakis, has completed a Healthcare Meeting Compliance Certificate program, hosted by Meeting Professionals International, and received the certificate which is valid for two years.
By taking this course Ellen can ensure that all our clients who visit the OLC are aware of and remain in compliance with the latest, and constantly changing, healthcare meeting compliance regulations, including being in compliance with Open Payments. Ellen states that certification is a "Valuable asset to the OLC ensuring corporate and surgeon compliance while in the facility' and allows her to be a guide to our guests who may not be familiar with the regulations, language used, or what they need to look out for. This is especially helpful in Ellen's role as she guides our clients through our pre-meeting process, which start 6-9 months before the event, and aids in the course layout.
For example, Ellen says that she learned a lot about how the laws have changed and how that will affect the flow of a course. With this knowledge, as well as her 30-year experience in the orthopedic world, Ellen is able to provide guidance to our clients on how course modules, breaks, product spotlights, and buffer times for courses should be set up for the best success. Ellen also has the unique ability to relate to and understand the needs of our various clients as over her career she has worked for both medical device and bio-skills event companies and was previously a client of the OLC!
On April 24th, Ellen celebrated her 5th year on the OLC team, and we'd like to congratulate and thank her for all her hard work and effort that goes into making sure our lab runs seamlessly! Ellen told us that one of the things she is looking forward to most this year is getting to have more people back in person at OLC events, so if you'll be visiting the OLC soon, we hope you'll stop by to say hi and congratulations to Ellen! (And if you're not planning a visit soon, why not? Check out the upcoming events on our calendar!)
As a GBAC STAR™ facility, we're proud to work with leading medical device manufacturers, Arthrex, ConMed, DePuy, Medtronic, Smith & Nephew, Stryker, and Zimmer Biomet, to advance patient care by promoting, training and certifying surgeons on the newest emerging techniques, including robotic surgical equipment, Bioskills labs, medical events and workshops. From our skilled staff to our 14,000+ sq. ft. state-of-the art facility complete with the latest AV equipment and training, multi-functional event spaces, and COVID-19 preparedness protocol and policies, we remain committed to ensuring each event is a success here at the OLC. Contact us to learn more.