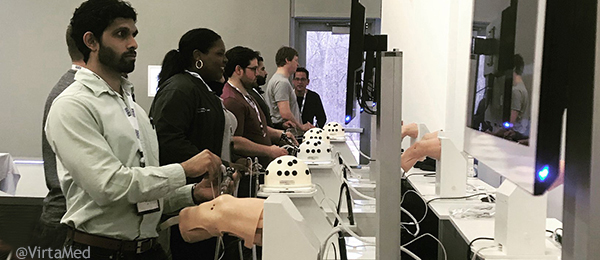 Emerging Technologies Medical Meeting Professionals Will Be Using in 2018
February 19, 2018
When it comes to planning and executing medical meetings and trainings, meeting management professionals face a variety of challenges — from adhering to evolving compliance and regulatory guidelines to staying on top of new trends.
With 65 percent of meeting professionals saying creating compelling meeting environments that enhance learning will be a challenge in 2018, here's a look at two emerging technologies medical meeting professionals will be using this year to make their meetings more compelling and effective.
Livestreaming
In Eventbrite's, "The Pulse Report: 2018 Event Industry Trends", 96 percent of event creator respondents indicated they'll use livestreaming this year (up from 59 percent in 2017). Why the dramatic increase? Of course, livestreaming allows medical meetings and trainings to reach more attendees wherever they might be.
But beyond the ability to reach larger audiences, on average, viewers spend 8X longer with live video than recorded video.
Expect more medical meeting planners to tap into the power of livestreaming this year because the technology is no longer just for mega-sized meetings. Today's technology has made livestreaming more affordable and accessible for any-size medical meetings.
For example, the American Academy of Orthopaedic Surgeons (AAOS) hosted a two-day hands-on training lab course for a targeted group of a few dozen orthoapedic surgeons. But they also livestreamed a portion of the training to extend the learning to other remote viewers.
And when you especially consider that 30 percent of people who watch a livestream of an event will attend the same event in person the following year, there's no reason why livestreaming shouldn't be a larger part of medical meetings this year. Just make sure to follow these five best practices to ensure a successful livestream medical meeting or training.
Virtual Reality
Hands-on experiential education has always been a big draw for medical meeting attendees – whether it's for continuing medical education, bio-skills training, medical device training or new surgical product and technique education.
But expect virtual reality technology to shake up and provide new ways of delivering hands-on education at medical meetings and trainings in the coming year. In their 2018 Event Industry Trends report, Eventbrite found 88 percent of event planners plan to use virtual reality this year – up from 43 percent in 2017.
As an example, the Arthroscopy Association of North America (AANA) has embraced virtual reality simulation education as an additional learning methodology to continue the advancement of medical and surgical skills training. AANA and VirtaMed recently signed a two-year collaboration agreement to use simulators for knee, shoulder and hip arthroscopy training, plus FAST basic skills training for their courses at the OLC. New content and curriculum is being developed specifically for use with the virtual simulators.
It's a big undertaking. But AANA Learning Center Committee Chair, Joseph C. Tauro, M.D. says this collaboration will help AANA "ensure all arthroscopic surgeons have access to high-quality skills training and continuous education."
Livestreaming and virtual reality are just two technologies medical meeting planners will be using this year to make their meetings more effective.
If you're looking for a facility capable of supporting state-of-the-art technologies like these as part of your next medical meeting or training, take a virtual tour of the OLC to learn more.