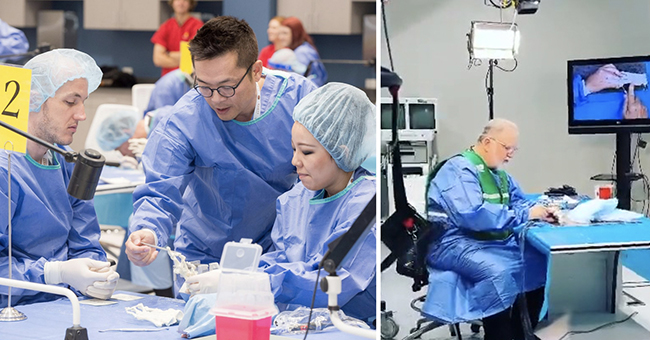 Dr. TJ Ahn Holds the Largest International MIFAS Cadaver Lab Workshop
October 2022 – Dr. Ahn practices minimally invasive foot & ankle surgeries at his practice. The International MIFAS Cadaver Lab Workshop was created because his passion is to promote and increase awareness of minimally invasive foot & ankle surgery. Dr. Ahn is a fellow and an assistant professor at AMIFAS (Academy of Minimally Invasive Foot & Ankle Surgery).
The OLC was able to accommodate 100 attendees in our 29-station lab, making this the largest MIS Cadaver Lab Workshop in the United States. This two-day premier cadaver workshop allowed attendees to practice hands-on skills of core foundation in minimally invasive foot and ankle procedures in our 6,000+ square foot bio-skills training lab, with demonstrations broadcast throughout the space, allowing attendees to clearly see the intricate details of the procedures. Attendees also received training in our educational auditorium which can host up to 180 people.
The OLC diligently worked with Dr. Ahn to create an immersive lab experience and ensure that all supplies and specimens were readily available for attendees.
Contact us about hosting safe in-person meetings or medial training events at the OLC.
Learn More about Medical Training Facilities