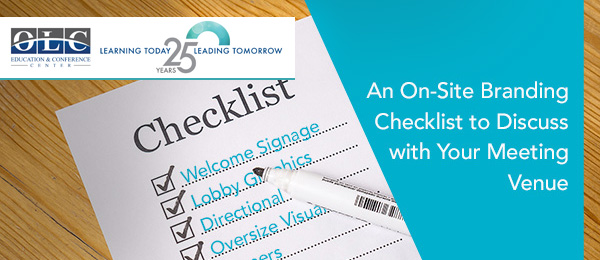 Creative On-Site Branding Opportunities: A Checklist to Discuss with Your Meeting Venue
July 24, 2019
After the time and effort spent creating the look and feel of your meeting's brand and promotion campaign, it's time to turn your meeting venue into a physical expression of that identity.
Of course, every meeting venue has different rules and regulations about what you can and can't do to the physical property. But with flexible and accommodating venues like the OLC, there are often plenty of unique and creative opportunities to put your brand stamp on the physical space.
Use this checklist to open up a conversation about available creative branding opportunities at your meeting venue.
The First Impression
When attendees arrive on-site, give them a warm welcome by taking advantage of these indoor and outdoor branding opportunities:
The entrance
Add branded welcome signage to let attendees know they're in the right place.
The lobby
Once attendees step inside, window clings or vinyl lettering affixed to the walls or surfaces make the lobby feel more in line with your meeting tone. If venue rules don't allow for affixed signage on hard surfaces, place uplights in the meeting's brand colors around the lobby for an easy and inexpensive branding alternative.
Directional signage
Use branded, simple standing signs or banners to guide attendees to session rooms, networking spaces or the sponsor/exhibit area.
Oversize visuals or structures
Is there an element from your meeting logo or brand that can be turned into a large sculpture? If not, turn your event name into a larger-than-life physical display. Just like the Burning Man iconic sculptures (without the fire, of course!), an oversize visual creates a bold branded backdrop for photos.
Step and repeat
If a dimensional structure is out of budget or not permitted by the venue, use a branded step and repeat backdrop instead. Your meeting's brand will be highly visible as attendees snap and share pics.
The bathrooms
It's unexpected, but taking advantage of bathroom branding opportunities adds a little fun to your event. Think mirror clings with clever sayings or quotes to humanize and personalize your brand.
Other digital signs
Many venues, like the OLC, offer digital signs throughout the meeting space. Ask your venue to provide specs to add branded visuals or videos to take advantage of these digital opportunities.
The Meeting Rooms
Extend the brand experience where attendees will spend the most time:
Walk-in and holding screens
Create a branded slide for display when attendees walk into the room, or a "holding slide" to insert during session transition times. On the slide, include the meeting logo or other branding elements, plus key information like the hashtag and WiFi network details. Coordinate the technical specs with your venue and on-site AV team.
Lectern signage
If you have speakers presenting from a lectern, don't miss this prime opportunity to incorporate your meeting brand. All eyes will be on the speaker, and the audience will take and share photos of the speaker, making brand placement on the podium a must. Just ask the venue for the best way to affix your brand to the provided podiums.
Slides
The actual meeting content slides aren't typically a venue responsibility, but since the on-site AV team will upload whatever slides are provided to them, consider giving all speakers a custom branded slide template to use when building their presentations – helping keep your brand consistent throughout the event.
The Food and Beverage
Attendees take photos every chance they get, especially when it comes to creative food and beverage. Work with your venue's caterer to extend the visibility of your meeting's brand by sprinkling in simple branded touches such as:
Branded buffet signs and menus
Edible versions of your meeting logo or theme on everything from cupcakes and cookies to cakes and more
Color-coordinated snacks, desserts, cocktails or mocktails that compliment your meeting's color scheme
The Attendee Takeaways
Attendee takeaways may be another area outside the direct responsibility of your meeting venue. Chances are, you've worked hard to come up with physical items that will leave a lasting impression.
Ask and show your meeting venue the materials you plan to hand out throughout the event so they can help determine the best method and place to display items like:
Registration packets
Attendee name tags
Meeting swag and other take-home items
Speaker gifts
Review this checklist with your venue to take advantage of all of the creative – and on-brand – opportunities for incorporating your brand identity throughout the meeting venue.
As a creative and versatile venue for corporate, medical and association meetings and events, discover the top 10 reasons to host your next meeting or event at the OLC.