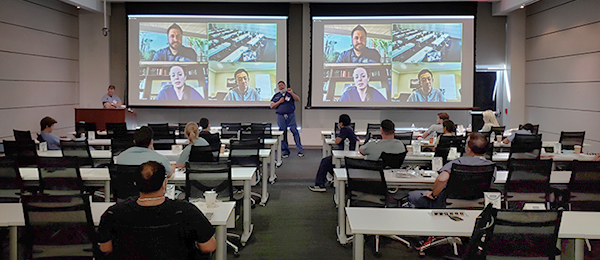 6 Tips for Planning a Successful Hybrid Medical Meeting
July 14, 2020
As states re-open and allow small groups to gather – especially for essential industries like healthcare and medical manufacturing – medical planners face new challenges. Many HCPs and other related professionals are limited in their ability to leave their practice or aren't permitted by their organizations to travel to attend meetings.
However, there is still an important need for these medical audiences to gather to improve patient care, develop new techniques, hone existing skills or receive product training or certification.
Enter the immediate future of medical meeting planning: hybrid meetings.
A hybrid meeting strategy enables organizers to host small, local live audiences and supplement their audience reach through online participation.
To help you plan a successful hybrid medical meeting, we've compiled the following six tips.
1. Reframe the meeting's goals and objectives
Setting goals and objectives for a hybrid meeting is very similar to the process for a live session. It starts with the "why" — why are you having the meeting and why are you inviting attendees to the meeting?
As you define the "why," adjustments may be needed. For example, education and training are often primary meeting objectives. However, an objective to teach a new skill or technique through hands-on learning during an in-person medical meeting needs to shift to a more traditional didactic approach for the online portion of the meeting.
Without a clear purpose for both meeting forms, there isn't a way to easily identify if you've succeeded in achieving the why.
2. Evaluate the audience's familiarity with technology
When it comes to an online meeting using technology, the possibility of user error increases. There are many different types of audio and video conferencing tools, and not all attendees are comfortable or savvy with these platforms.
Planners can mitigate issues for online participants by understanding the target audience's familiarity with tech. Another best practice? Create a guide to fill in potential gaps, such as how to access the meeting, tips for interacting with the speakers (if offered), or who to contact for technical issues.
3. Enlist the venue early to begin planning
We can't stress this enough when it comes to planning a hybrid meeting: get in synch with your venue early.
First, you'll want to work closely with the facility to create room set-ups that account for social distancing for in-person attendees. This is the time to ask about additional preparedness and protection procedures in place to keep attendees and staff safe – such as face mask requirements for all or new room layouts to keep attendees spaced out.
And if your venue has a broadcast studio you'll be using to livestream or record portions of the meeting, start coordinating with the AV and technical team for those components too.
4. Update the marketing and promotion plan
Marketing a hybrid meeting often utilizes the same channels used to market face-to-face meetings, such as social media, content marketing, email marketing and paid advertising. There are two differences to pay attention to: the timing and a shift in messaging.
For online meetings, without the need to travel, registration numbers typically rise during the last week before a meeting starts. Increasing the marketing efforts going in the days leading up to the online portion boosts registration.
Additionally, planners also need to add to their marketing and promotion plan to keep communicating and remind those who registered for the online meeting to show up when it's time.
5. Plan the live and hybrid timeline
Many planners assume the live and online portions of a hybrid meeting have to coincide. While there are benefits of doing so – such as giving remote participants access to in-person speakers and attendees – more planners are taking advantage of pre-recorded content and semi-live sessions.
Pre-recording provides planners with the flexibility to make content available to online audiences at any time. Alternatively, pre-recorded sessions can be combined with live Q&A sessions to create an overall timeline that works for your organization, global audiences and speakers.
6. Decide on audience interactivity
Remember, online audiences don't have the same attention span as in-person attendees. Shorter online sessions, combined with strategies for remote meeting participants to interact with each other and the presenters goes a long way to keeping engagement high and ensuring your goals and objectives are met.
There are many platforms designed to foster audience interactivity. If livestreaming directly from your venue, ask for their recommendations and what works with their platform.
Just like an in-person only meeting, planning a hybrid medical meeting takes strategic thinking, attention to detail, and marketing savvy, but with these tips, you'll be well on your way to success.
Need help planning your next hybrid medical meeting? Contact the OLC to learn more about our livestreaming capabilities, central location near Chicago and flexible meeting space to reach both local and global audiences.