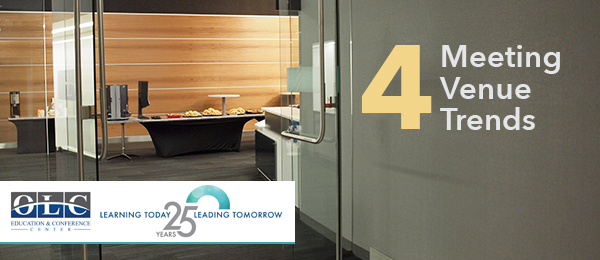 4 Meeting Venue Trends on Planners and Attendees' Minds
February 25, 2020
What are planners and attendees looking for when it comes to finding the right venue for meetings and events?
That's a tough question to answer, especially as planners' needs and attendees' expectations continue to evolve and the demand for experiences rises within the industry.
Drawing on research from the 2019 IACC Meeting Room of the Future™ report, here's a look at four meeting venue trends top-of-mind for planners and attendees.
1. A Continued Focus on Sustainability
One of the key report findings was that "ethical operations and sustainable practices are a top priority for meeting planning in the coming years."
Of course, the idea of sustainability isn't new. The topic has been talked about for many years. But as evidenced by the latest IACC report, it will only continue to trend upward. Concerned about the impact of meetings and events on the planet, planners, venues and attendees will collaborate more to reduce the overall environmental impact and carbon footprint of meetings and events.
As just a few examples, look for an increased focus on more sustainable practices such as:
More expansive plant-based catering options on the menu. Eighty-nine percent of IACC report survey respondents indicated they want healthier food and beverage options.
Conservation initiatives, like replacing single-use plastic water bottles with permanent self-serve hydration stations.
New methods to deal with food waste. In the IACC report, forty-four percent of meeting buyers surveyed cited food waste as their biggest sustainability gripe, and sixty-two percent of respondents indicated they would in the future consider how prospective venues manage unused food.
2. More Venue Flexibility for Experience Creation
According to the IACC report, 85 percent of planners said their current role today requires more experience creation compared to five years ago.
As part of the shift to experience-based meetings and events, and to facilitate the education and networking expected by attendees, venue characteristics like open and flexible space and technology integration will become increasingly important to planners and attendees.
3. Improvements in Event WiFi
Slow WiFi – or worse, dead zones – can quickly dampen the entire meeting experience and create a negative impression. In no big surprise, the IACC report found that 47 percent of planners see affordable or free high-speed internet as the most critical meeting technology needed in the next five years.
With the importance of fast WiFi on everyone's minds, planners will start discussions early with a venue to make sure the meeting's WiFi will be secure and seamless.
4. Fostering Live and Virtual Connections
IACC survey respondents indicated that one of the top ten meeting elements that help achieve the focus of a meeting is "technology that fosters collaboration and connection" with attendees.
In today's hyper-connected world, video livestreaming options make meetings and events more accessible to participants unable to travel due to budget or time constraints. And at the same time, video livestreaming fosters the kinds of connections and peer networking attendees crave.
Expect more planners and attendees to choose meeting venues with built-in and innovative technology like video livestreaming to bring people together.
Research confirms that sustainable options, flexible spaces, high-quality internet and the ability to foster both virtual and live connections are top-of-mind to deliver both on planners' needs and attendees' expectations.
​Contact us to learn more about hosting a meeting or event at the OLC Education & Conference Center.