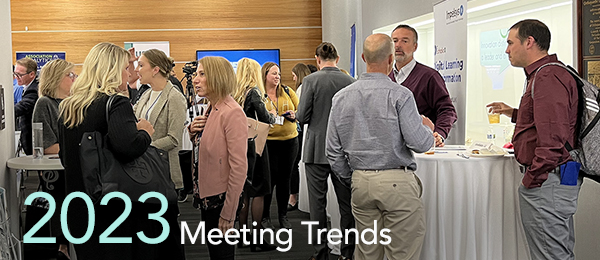 2023 Meeting Trends
January 24, 2023
As we begin 2023, there are some major meeting trends that are sure to make a huge impact on events this year.
In-Person Events
First and foremost, in-person events are back on top! Virtual events seem to be phasing out as we adjust to our new normal. Though we did see an increase in in-person events in 2022, it appears they will continue to increase this year. "71% of event decision-makers report that despite their best efforts it's tough for virtual events to ever fully replicate the experience of the in-person trade show. With 95% of exhibitors saying they prefer in-person to virtual events." (Parker-Bray, 2022)
Hybrid Meetings
Hybrid meetings have also become increasingly popular. This involves mixing virtual and in-person elements in order to provide the best of both worlds. Hybrid meetings are great because they provide the opportunity to communicate face-to-face while still allowing attendees to join from different locations.
Adopting Event Technology
Finally, 2023 event trends will be more focused on creating unique experiences that are interactive, tech-driven, and personalized. Event planners will focus on creating immersive experiences and interactive elements like multi-sensory activations, virtual reality, and augmented reality.
With more in-person and hybrid events, tech will be utilized to create interactive experiences with polls, quizzes, and gaming. Planners will also focus on personalization, such as customizing content, activities, and rewards based on the attendee's interests. Additionally, sustainability will be a major focus, with event planners looking for eco-friendly options in all aspects of the event.
These are just a few of the meeting trends that are likely to dominate 2023. With all of this in mind, 2023 is sure to be an exciting time for events, with all sorts of new and innovative experiences.
____________________
SOURCE: Parker-Bray, E. (2022, November 16). 5 Event trends to look out for in 2023. Gather Capture. Retrieved January 24, 2023, from https://gathercapture.com/latest/5-event-trends-to-look-out-for-in-2023