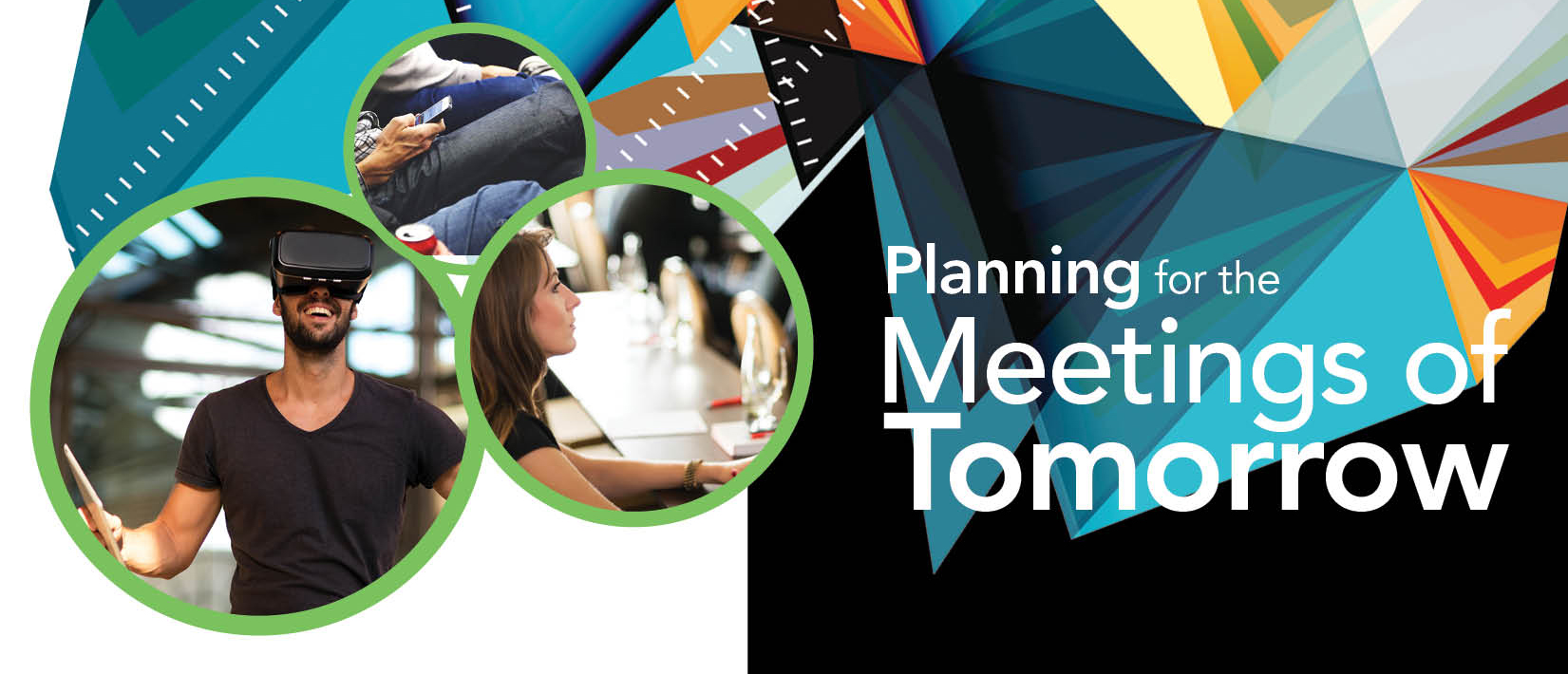 What Emerging Technologies Mean for the Future of Business Meetings and Events
October 24, 2017
It wasn't that long ago that we thought the technology featured in the hit movie Minority Report was far from reality. But here we are with autonomous driving cars on the horizon, roller coasters adding virtual reality headsets and voice-controlled assistants in our homes.
Just as emerging technologies have rapidly changed our personal and professional lives, there is now an overwhelming landscape of technology options in the meetings and events space. It's hard for meeting and event professionals to know where to focus resources, let alone how to make all these different platforms, applications and tools work together.
But the future of our meetings and events depend on thinking creatively and strategically about how best to incorporate technology – not only to support our goals, but to improve the attendee experience.
Recognizing this challenge, the PCMA Education Foundation engaged Association Laboratory, a leading association industry research consulting firm, to conduct an investigation into how attendees and event organizers are using technology to make face-to-face events more productive.
The result is the Planning for the Meetings of Tomorrow report. If you haven't seen the report yet, it's available free for event professionals. (Hint, hint, download it now!)
I may be a bit biased as a member of the report's Research Advisory Committee, but it's really insightful. Here are a few key findings:
​
The Attendee Experience Drives Attendance
The top three reasons respondents cited for incorporating new technology into events all focus on the attendee: improving the attendee experience, making the event more fun/engaging, and customizing the attendee experience.
To accomplish increased attendance and revenue, organizations must take a market-centric approach. Organizations should consider:
The different attendee markets,
What each audience considers "engaging", and
Specific strategies to link these two factors to the content, location and cost of the event.
Factors Inhibiting Technology Adoption
Report respondents identified development or purchase costs as the biggest barrier to adopting and using new technologies at events.
Association Laboratory found successful technology adoption requires balancing what the technology adds to the attendee experience with the overall cost along with attendees' learning curve.
Current Use of Technology
To promote the event and drive registration, email and websites are the most frequently used technologies. Surprisingly, speaker promotion, plus attendee-published information on social media is growing in importance for spreading the word about events.
When it comes to the on-site experience, WiFi is an essential foundation to success. Any efforts to make access to WiFi faster, easier and more affordable are critical to an engaging user experience. It also paves the way for using event apps, communication tools and other technologies successfully and to their fullest potential.
Technologies like remote participation, second screen technology and tracking technologies like iBeacon and RFID are also on the rise. Association Laboratory notes "behind-the-scenes" tracking technologies are one of the top three emerging technologies –something expected to become an important foundational technology too.
After an event is over, post-event engagement is an area of potential opportunity for event organizers. But because it's difficult to take subjective feedback and turn it into a usable format, this also represents an areas for organizers to take advantage of innovation as it's developed.
Emerging Trends
It's hard to predict the future, but Association Laboratory's research noted the following areas to keep an eye on:
Virtual or augmented reality and gamification
Remote participation and second screen technology
The use of artificial intelligence to automate routine interactions
If you'd like to learn more about this research, along with practical ideas for attracting the next generation of attendees, I hope you'll join us on November 14, 2017 from 2:30-5:00 pm. The OLC is the host venue for the complimentary Planning for the Meetings of Tomorrow seminar.
Dean West, FASAE and President of Association Laboratory will discuss how emerging technologies are altering event registration, the attendee experience and post-event follow-up. Plus, there will be ample opportunity to meet with fellow peers and colleagues to network and ask questions.
Register today to reserve your seat before space runs out!