Transforming Training Meetings to a Micro-Format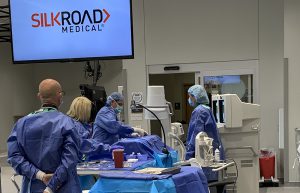 June, 2020 – Silk Road Medical, Inc. is a medical device company that has pioneered a new approach for the treatment of carotid artery disease. Silk Road has hosted medical training meetings at the OLC since 2017, bringing together medical professionals from around the world.
Because of the COVID-19 pandemic, Silk Road had to pivot its successful medical meeting bioskills training approach, transforming them from large meetings to micro-groups of ten attendees, with one of the faculty members livestreamed in for this June training event.
Working with the OLC, Silk Road developed a new format that combined both didactic and hands-on lab education to train new employees – all while following strict safety procedures and protocols. The small group began with socially-distanced classroom education, spread out in the OLC's spacious auditorium, then moved to the hands-on lab training portion. The half-day training meeting even included a lunch break – with easy grab-and-go, pre-packaged attendee meals.
Silk Road's Maryanne Koller, Senior Program Manager, Office of Medical Affairs commented "Thank you so much for all the great work. Looking forward to our next visit to the OLC!"
Contact us about hosting safe in-person meetings or training events at the OLC.
Learn More about OLC's Bioskills Training Facilities