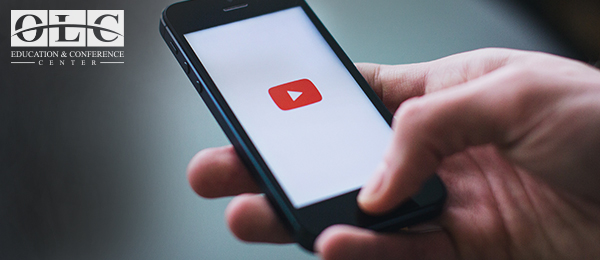 The Importance of Video for Your Meetings and Events
May 28, 2019
From TV commercials to movie trailers, the use of video marketing isn't anything new.
Thanks to the Internet and the always-on smartphones in our palms, video marketing is rapidly on the rise – and for good reasons:
Beyond these powerful statistics, the growing appeal of video is that it can be used in so many different ways.
When it comes to meetings and events, video is a great marketing tool. It provides attendees with a glimpse into your event and gives them a taste of what to expect. Plus, it's a lot more engaging and energetic – just like the experience they'll have when they attend.
Take a look at all the ways to use video to create enthusiasm before, during and after an event or meeting.
​
Trailers
There's a reason why every major motion picture releases a movie trailer. Film trailers are a way to attract an audience before the release of a film. If the trailer leaves the audience wanting more, they'll be curious to see the movie when it's released.
Event trailers or teasers work the same way. They provide potential attendees with a sneak peek of the in-person experience.
For an effective event trailer, go beyond location and date details. Show attendees experiencing the event or let them talk about their most valuable takeaway. Ask speakers, industry experts or even well-known subject matter experts to record snippets of their presentation or anything else that establishes your meeting as one not-to-be-missed.
​
FAQs & Reminders
What is the refund policy? What does the registration include? What kind of on-site parking is available?
Chances are a running list of FAQs are posted on the meeting website. Instead of providing attendees with a long list of questions to read through, a video turns FAQs into a fun, fact-finding experience. (As an example, if you haven't seen the Las Vegas McCarran Airport security reminder video, it's a great example of how to make reminders and FAQs entertaining to watch.)
Video also increases the likelihood that those important, but often-overlooked, reminders are seen and heard too.
​
Live Videostreams
There are plenty of times when potential attendees want to attend a meeting or event, yet can't make the trip because of conflicting schedules or long distances to travel.
A live videostream provides a cost-effective strategy to reach bigger audiences – whether it's expanding the meeting to a global group or engaging a whole new market of people who haven't previously attended. A live videostream gives a taste of the event experience and often increases the likelihood they'll attend in person the next year. According to Digitell, a multimedia development company, "30 percent of people who watch a live stream of an event will attend the same event in person the following year."
Another tip: record the live videostream and rebroadcast at a later date with the original presenter hosting live Q&A. Not only does this extend the life of a video livestream beyond the initial broadcast, but it's also another way to build momentum for future meetings and events.
​
Highlights and Recap
What better way to thank attendees for coming than a video that shows all of the memorable moments? A highlights video provides a powerful recap of the entire event experience and is a perfect teaser to build momentum for the next meeting.
To discover how our state-of-the-art venue supports video marketing for meetings and events, including video livestreams, contact the OLC to learn more.