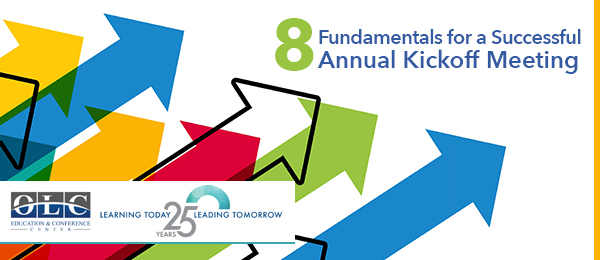 The 8 Fundamentals for a Successful Annual Kickoff Meeting
October 21, 2019
An annual kickoff meeting sets the tone and vision for the next twelve months. Done right, it encourages face-to-face team building, celebrates the previous year's successes, and ignites a new focus for the coming year.
But how do you plan a kickoff that is valuable for attendees and also provides the foundation for success in the coming year?
Plan an effective annual kickoff meeting by following these eight fundamentals.
​
1. Set clear goals and objectives
It may seem obvious, but before jumping into agenda planning, creative development or logistics, first set the goals and objectives of what you would like to see from the kickoff meeting.
Your goal may be to celebrate a record-setting year, or perhaps the team needs training around an upcoming product launch. Once specific goals are set for the meeting, choosing a theme, organizing the agenda and determining speakers and topics becomes clearer.
2. Incorporate feedback from multiple perspectives
A kickoff meeting is often used to set the stage for taking your organization to the next level. As such, multiple perspectives are needed to communicate that story – from the CEO, sales leadership, the marketing and customer service teams, product specialists or managers, and others.
When setting goals and objectives, get feedback from all stakeholders, including those whose support is necessary during the planning stages as well as those that will be part of the kickoff meeting itself.
A few key questions to gather feedback:
What resonated with attendees last year;
Which kickoff elements helped them to be successful;
What could be improved or expanded upon; and
What are the frequent questions or concerns from employees that need addressing?
3. Establish your kickoff theme
A kickoff theme is useful to:
Provide focus around an overarching goal
Reinforce and increase retention of key takeaways
Add a touch of creativity that ties together kickoff meeting elements
4. Determine and finalize logistics
Since many companies host annual kickoffs in January or February and range from one to three days, it's important to plan early to secure the desired meeting venue and dates.
Many organizations choose to take their kickoff outside of the office in a convenient, central location to a major transportation hub. Hosting a kickoff in a conference center or meeting venue provides a change of scenery that is conducive to learning, minimizes distraction from regular day-to-day work and keeps attendees focused on the meeting.
5. Draft your kickoff agenda
Since your entire organization is together at a kickoff meeting, it's tempting to cram in as much information as possible. Resist the urge and instead focus the agenda on topics best covered in a large group face-to-face setting.
When drafting the agenda, crowdsource ideas from the entire internal team and review past feedback or surveys to guide sessions or highlight knowledge gaps needing focus.
6. Mix up the session formats
Since a kickoff meeting often serves multiple purposes, from information sharing, technical trainings, building camaraderie and more, the event needs should include different types of sessions to keep attendees engaged.
For example, employees often rank the networking and collaborative aspects of a kickoff meeting as the most valuable, yet there are rarely formal opportunities for peer-to-peer sharing. And two to three days of endless PowerPoint presentations can diminish learning and retention.
Plan your agenda with a mix of inspirational talks, informational meetings, training sessions and team-building activities, with plenty of opportunities for knowledge sharing and re-connecting with colleagues they may not normally see face-to-face
7. Include recognition moments
Another key component in your agenda planning is the inclusion of recognition moments.
Whether it's recognizing top performers through awards ceremonies, welcoming new employees or sharing employee stories from the last year, recognition moments throughout the agenda builds morale and helps employees get to know their peers.
8. Set pre-work
Your kickoff is an integral part of your company's plans for the year. It's reasonable to ask attendees to prepare for the big event.
Get the ideas flowing before the kickoff by assigning pre-work tasks, such as asking attendees to record their thoughts on a few thought-starter questions or watch videos or webinars to brief them on training topics.
Annual kickoff meetings provide a forum to align the entire organization around top goals and priorities for the year, share best practices and new ideas and encourage peer-to-peer learning – creating valuable connections and alignment to the company's common goals.
Take a virtual tour of the OLC Education & Conference Center to discover an ideal and centrally-located venue to host your annual meeting.