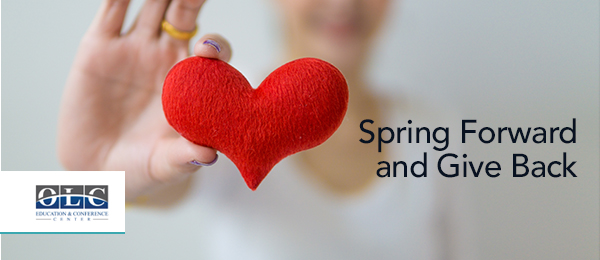 Spring Forward and Give Back
March 24, 2021
"Remember that the happiest people are not those getting more, but those giving more."
       ― H. Jackson Brown Jr.
Once the pandemic hit, a new mission for meeting and events professionals around the country arose. According to Convene, event producers and planners were called on to solve unique problems. In California, a production company that was preparing to build stages for Coachella found itself building field hospitals. New York's Javits Center, one of the busiest event venues in the country, was converted into a temporary health center. At the OLC, we proudly donated PPE supplies to support healthcare providers, caregivers and first responders on the frontlines.
As we typically see in our amazing industry, everyone joined together to help.
For many in the meeting and events industry, one rewarding aspect of our work is giving back – to others, to the community and to the industry as a whole. As we "spring forward" this month, supporting others cannot be understated.
Tony Robbins recommends implementing the following strategies to discover the beauty of giving back:
Find your purpose
Start small and start today
Create a ripple effect
Find what fits
Embrace your life as a resource
Thrive Global consistently writes that investing one's time, energy and other resources into assisting those in need can improve your own mental resilience, health, and productivity. Giving back comes in many forms, and beyond financial contributions, consider these three ways to help the community:
Volunteer your time: This can be done in many different ways, either in-person or virtually. Support local food banks, deliver food to those in need or write letters to residents in memory care centers or nursing homes.
Contribute a skill: Why not use your unique skills to help others in the community. Resume writing for those that have lost their job is one great way to utilize your writing and computer skills to give back.
Impact education: Many young people could use a mentor or tutor to help with learning from home. Now is a great time to help supplement virtual education efforts.
As you spring forward this month, you can also spring into action. Remember, we're stronger together.
What are your favorite ways to give back and connect with your community? Contact the OLC to share your thoughts.