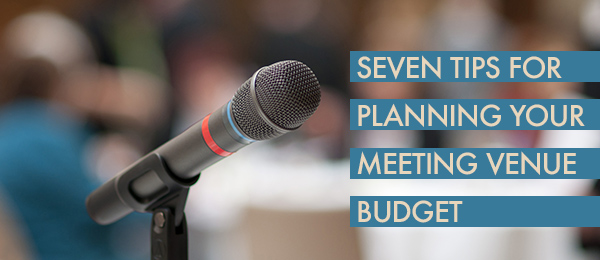 Seven Tips for Planning Your Meeting Venue Budget
March 29, 2018
Finding a venue is likely the biggest decision you'll make for your meeting or training event. It's also typically the largest line item in your total budget.
What should you consider when planning your meeting venue budget? Here are seven tips:
​
#1: Be Realistic About Head Count
Don't overestimate when it comes to total number of expected attendees. A high head count often means increasing the expected food and beverage budget, plus space costs.
Be realistic about expected attendance. Avoid surprise charges if you go over your initial estimate by talking to the venue ahead of time about their policies for increasing head count for food and beverage or space needs.
​
#2: Ask What's Included in Venue Rental
Make sure you aren't double-counting budget line items because those costs are already included in the rental fee. Some venues include the following costs already in their agreements:
WiFi
Security
On-site staff support during the event
Office supplies, like flipcharts, easels and markers
#3: Plan Catering Carefully
Food and beverage is an essential item in your meeting budget. Keep your budget in check by planning in advance for frequently overlooked items like minimum guarantees, gratuities and surcharges.
And if your venue allows outside food and beverage, don't forget to account for additional catering costs like set-up, service, replenishment and clean-up. Many venues with in-house catering include all of those services as part of their service costs. But if you're having food delivered from a restaurant, these additional services aren't included – and need to be planned for.
​
#4: Understand What the A/V Line Item Includes
First, understand what, if any, A/V is already included. Some venues, like the OLC, have built-in projectors, display screens, microphones and other AV equipment and don't charge extra for use. Other venues may only permit you to use their in-house A/V services, or charge an extra fee for bringing in an outside vendor.
While many venues include power, don't assume it is automatically included in your A/V costs. Some venues charge to plug anything in, and some only charge if additional power is needed to support power-heavy equipment lighting or sound rigs.
Beyond equipment costs, ask if the A/V line item includes on-site labor costs or service fees, or if those are additional charges.
​
#5: Assess Décor Costs
Some venues come fully equipped to meet your needs, while others are "raw spaces." For example, if you're hosting a hands-on medical training, a fully equipped venue can save considerable money on the cost to bring in equipment, the labor to load it in and set it up, and the additional time to rent the venue for set-up.
Don't forget to ask about costs for different room configurations, additional chairs or tables, or other décor set-up costs for items like special linens, signs, banners, extra lights, table decorations or draping.
#6: Determine Insurance Needs
Meeting and event venues don't always come with insurance. If the venue does provide insurance, get details about what is specifically covered.
Work with your in-house legal team to determine if and what additional insurance is needed to guarantee attendee safety.
​
#7: Pay Attention to Hidden Costs
Read your venue contract carefully for any mention of hidden costs, such as:
Corkage fees
Credit card processing or wire transfer fees
Cleaning/housekeeping fees
Early set-up or late fees if you're in the space before or after your scheduled event time
Parking for attendees
Security/damage deposits
Service charges
Storage costs
Tips and gratuities
Taxes
Remember: decide how to spend your meeting venue budget with the overall attendee experience in mind. Don't skimp on items that directly impact perception of your meeting or event.
Contact the OLC to learn more about our meeting packages.