Power Construction Holds Safe, Socially Distanced OSHA Training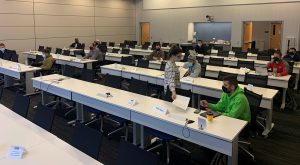 October, 2020 – Power Construction is one of Chicago's most respected and prolific builders of small and large commercial and university science lab and prototype production facilities. They were looking for a safe venue to host their OSHA 30 Construction Course, bringing staff together from around Chicago area.
Socially Distanced OSHA Training: Since OSHA still requires in-person training to remain compliant, the COVID-19 pandemic presented a major challenge. Power Construction had to pivot its successful full day large training approach to smaller group training with multiple day attendance. They turned to the OLC where they have held other events for the last two years.
Working with the OLC, Power Construction designed their training to include 15-25 people per day, learning construction safety in line with OSHA requirements. The smaller groups were spread out in OLC's spacious auditorium, following all socially distanced protocols and facemask requirements.
NOTE: Shortly after these training events concluded the OLC achieved Global Biorisk Advisory Council® (GBAC) STAR™ accreditation, the gold standard for prepared facilities. Under the guidance of GBAC, a Division of ISSA, the worldwide cleaning industry association, OLC has implemented the most stringent protocols for cleaning, disinfection and infectious disease prevention in its meeting, education and medical training facilities.
Contact us about hosting safe in-person meetings or training events at the OLC.
Learn More about Corporate Meeting Facilities