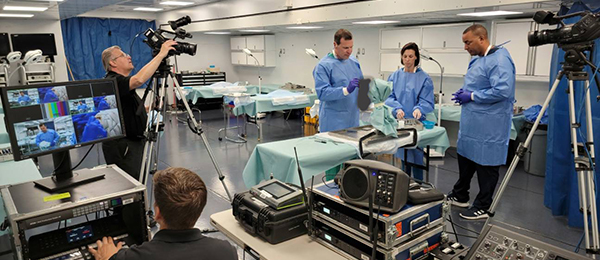 On the Go: The OLC Mobile Lab Offers Cutting-Edge Bioskills Training Options
June 30, 2023
In the realm of medical education and professional development, staying up-to-date with the latest techniques and advancements is paramount. The OLC Education & Conference Center continues to lead the way in enhancing learning experiences around the country. The OLC Mobile Lab is one such endeavor that has enhanced bioskills training for physicians, surgeons and medical professionals.
Enhancing Bioskills Training:
The OLC Mobile Lab is a self-powered, state-of-the-art, portable facility that brings advanced bioskills training directly to medical institutions and events, with the lab indoors on the tradeshow floor. With its cutting-edge resources and expert OLC staff management, the lab creates a simulated surgical environment where physicians and industry team members can present new techniques and demonstrate equipment at the forefront of medical advancements.
Key Features and Benefits:
Realistic Bioskills Simulation: The 1,100 sq. ft Mobile Lab offers a realistic and authentic bioskills demonstration and training experience, practicing simulated procedures in a well-equipped lab environment. After a demonstration, small group labs can be conducted for surgeons to practice this new procedure supported by leading surgeons and industry medical education members.
Customizable Training Options: The Mobile Lab caters to the specific needs of various medical disciplines. It offers customizable bioskills training opportunities, ensuring that healthcare professionals from specialties such as general surgery, orthopedics, cardiovascular, and more can access targeted advanced training aligned with their areas of expertise.
Expert Guidance: The lab provides access to leading surgeons and highly skilled industry instructors brought in by the host organizations. These experts share their knowledge, provide valuable feedback, and help session attendees and small group lab participants refine their techniques, improving their overall proficiency.
Medical Device Industry Presentations: The Mobile Lab is a great option for presenting a new device, streamlined procedure etc. Large center doors and a hydraulic lift gate make it easy to bring in large imaging systems or robotic equipment and these can be changed out for different demonstrations.
Full AV Livestreaming: With multi-camera filming and high-quality audio, the lab offers complete livestreaming capabilities, and to multiple locations including the tradeshow floor theaters or company booth, main sessions auditoriums and off site to a nearby medical facility or hotel meeting space.
Mobile Lab Applications:
The OLC Mobile Lab has already made a significant impact on bioskills training for healthcare professionals. Here are a few examples:
Allied Professionals: The Mobile Lab also supports training for residents, Fellows, nurse practitioners, physician assistants and all other medical professionals. It allows them to practice surgical procedures in a safe environment, enhancing their skills before entering and completing their specific medical training.
Conferences and Workshops: The lab is frequently utilized during medical conferences and workshops, offering participants the chance to learn about new medical products and practice new surgical techniques. It provides an interactive and engaging learning environment that enhances the overall educational experience.
Rural and Underserved Areas: The Mobile Lab can be transported to rural and underserved communities, bridging the gap in bioskills training opportunities. It ensures that healthcare professionals in these areas have access to advanced training, improving the quality of care they can provide to their communities.
__________________________________________________________________________________
The OLC Mobile Lab at AOSSM 2023:
Our Mobile Lab will be at the AOSSM 2023 Annual Meeting in Washington, DC, bringing together US and international orthopaedic surgeons to learn from today's sports medicine world leaders with three days of demonstrations – July 13-15, 2023.
July 13, 2023 – CTM Biomedical, Vericel and AOSSM Global All Stars

Thursday's demo from CTM Biomedical is on Incorporating Human Allograft Connective Tissue Matrix into Surgery of the Shoulder and Knee.
Next Vericel will demonstrate the MACI Procedure to regrow new cartilage for the knee joint.
Later in the afternoon, AOSSM's Global All Stars of Arthroscopy features two demos: #1 – Arthroscopic Bone Block Stabilization and Arthroscopic Rotator Cuff Repair with Tissue Augmentation & Subacromial Balloon Spacer and #2 – Multi-Ligament Knee Reconstruction: Four Ligaments in 30 Minutes
July 14, 2023 – Zimmer Biomet and Smith+Nephew
Friday's first demo from Zimmer Biomet is Biologic Augmentation to Support Healing in Sports Medicine Procedures.
The second demo by Smith+Nephew showcases Quad Harvesting & Meniscal Repair.
July 15, 2023 – Arthrex
On Saturday, the final demo from Arthrex will cover Improving Outcomes for Complex Rotator Cuff Tears Using Autografts and Allografts.
__________________________________________________________________________________
As bioskills training becomes more accessible and advanced, the OLC Mobile Lab remains at the forefront of revolutionizing medical education.
Contact us to learn more about how the OLC Mobile Lab can enhance your next Bioskills training experience.