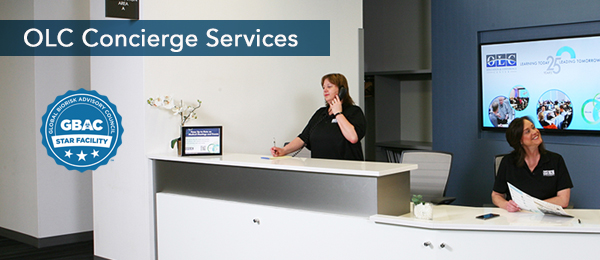 Turn-key Event Concierge Services at the OLC
September 22, 2022
Our turn-key concierge event management service is a premier service available to all guests, from the initial call to the final follow-up.
Comprised of meeting planning professionals with 50 years of combined experience, the OLC concierge team works collaboratively with corporate, association and medical event planners to take the stress out of planning.
What exactly does an event concierge do?
The OLC concierge team can start working with you once your event is scheduled, assisting with tasks like seating arrangements, determining the best locations for breaks, timing between sessions to allow room changes or the best location for a breakout session.
The team coordinates AV needs from basic microphones and presentation projection to audience interaction tools. Also, livestreaming for hybrid meetings with virtual participants and presenters, plus the recording of sessions for future use.
We provide catering through Northern Fork, for meals and snack break items with everything from pre-packaged meal choices, to an elegant carving station with hot entrees and sides. The concierge team works with the caterer to determine the amount of food needed and arranges delivery and setup.
For medical trainings, the team can coordinate tool, equipment, and supply needs, ensuring smooth delivery and timely station set-up.
They can also help set up registration check-in, with electronic waivers.
Our concierge team is also able to recommend the best hotels, dining, and entertainment options near the OLC in Rosemont.
How can the concierge event management team help my group?
In addition to the many benefits above, our concierge event management team is there to ensure that your event runs seamlessly, handling situations that may arise and providing last-minute needs clients may have forgotten so that you and your organization always look good.
Our event management team makes sure every aspect of the planning, timing and execution of your event at the OLC Education & Conference Center meets the highest standards and delivers a successful outcome.
For more information on our all-inclusive event packages, contact our concierge team here.