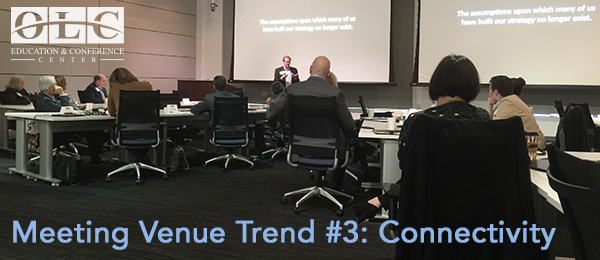 Meeting Venue Trends and Statistics: What Planners and Attendees Expect in 2019
January 30, 2019
After another strong year for meetings and events in 2018, many predictions show the industry continuing an upward trend this year:
No matter what kind of event or meeting, venue selection plays an essential role in success. We took a look at trends and statistics to determine what planners and attendees expect in the coming year.
​
Trend 1: Unique and Flexible Spaces
In research conducted by SocialTables, an event management platform, 92 percent of planners and property professionals alike said they believe events are more likely to be booked outside of a hotel than they were five years ago.
One reason why is due to the increased demand for nontraditional meeting and conference formats. For example, many attendees want to network and collaborate in informal or multi-purpose spaces. Beyond event content, the second biggest motivator for event attendance is networking.
To accommodate a wide variety of needs, planners and attendees today expect flexible spaces that can be easily reconfigured to accommodate both group learning and peer learning. Hand-in-hand is the ability for planners to reinvent meeting spaces as they need them, quickly and easily, without needing long amounts of time to turn a room.
Trend 2: Local Flavor
According to Lodging Magazine, "millennials seek to immerse themselves in the destination in which they are staying."
But millennials aren't the only ones who want a local taste. With the rise of bleisure travel, many attendees want to take full advantage of the locale when they attend an event or meeting.
One way for venues to give planners and attendees a local taste is by providing sustainable food and beverage menu options or offering unique field trips or experiences to nearby destinations. These kinds of unique experiences give guests something they can't get anywhere else and give back to the local community too – a win-win for all.
​
Trend 3: Well-Connected
According to the IACC Meeting Room of the Future report, a great venue should have good lighting and acoustics, excellent audiovisual capabilities and, most importantly, fast and reliable WiFi.
With planners and attendees wanting to stay connected to their work and to participate in audience engagement activities during the event, high-quality broadband and solid technology infrastructure are no longer optional. Same with the wide availability of power outlets throughout the venue – these are just as critical.
Easy accessibility to airports as well as local attractions, restaurants and shopping make it easy for guests' connectivity to go beyond venue walls too.
​
Trend 4: Wellness
There's no denying it – wellness continues to be a mega trend both at home and during meetings and events.
Planners and attendees expect venues to offer healthier menu items – whether that's vegetarian and vegan, or even Kosher or Halal options.
Venues that take physical and mental wellness beyond food and beverage are also on the rise. Examples include facilities with water and air purification systems, ambient lighting systems to help guests relax and alleviate stress or even "unplugged" spaces for attendees to meditate or practice mindfulness.
​
Trend 5: All-Inclusive
With so many details to handle, planners increasingly want a venue that provides it all, especially when it comes to turn-key packages with A/V equipment, wireless internet and tech support included.
All-inclusive packages reduce the need to source, coordinate and book multiple vendors – saving time and worry.
Ready to plan your next meeting or event? Take a virtual tour of the OLC to discover more of our facility, including our 14,000+ sq feet of flexible space, all-inclusive AV and turn-key concierge planning services.