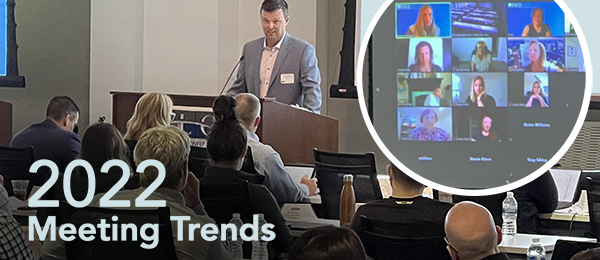 Meeting and Event Trends for 2022
June 21, 2022
The last two years have changed the world of event planning. Event planners and guests have had to adapt to a constantly changing environment, leading to solutions that account for the unknown. From this, here at the OLC we've seen several trends come to the forefront in 2022 as the world cautiously opens back up, while also fighting rising inflation costs.
Without a doubt, the biggest trend we've seen continues to be the popularity of hybrid meetings, and it's easy to see why. Hybrid meetings allow for the ultimate flexibility, allowing attendees to appear in-person or virtually, the potential to reach a larger audience, reduce travel costs, and allow for a high level of engagement. Of course, we aren't the only ones touting the benefits of hybrid meetings, Cvent agrees that a focus on leveraging meeting formats to appeal to in-person, virtual, and offline audiences is a key part of planning a successful meeting.
Hybrid and virtual meetings are also often recorded, which provides for the opportunity to reuse the material for training or planning future meetings, or to share it with those who were unable to attend. At the OLC, we always recommend recording, or writing down a written record of procedures, for all meetings and events, whether they are in-person or virtual. We've found that having this documented record can be extremely beneficial for our clients to refer back to internally and gives them greater insight on how they can improve their programs.
Plan for the unexpected — the importance of a backup plan
In conjunction with this, we've also noticed, and recommend, a trend of being prepared for the unexpected. While we will hopefully not always live with the worry of a pandemic, it's a good opportunity to learn to be flexible and ready to pivot to plan b, if needed. At the OLC, we encourage our clients to plan for the unknown and to document their processes and programs so that nothing is forgotten during a quick change. We also work with them to ensure they have copies of their presentation materials in multiple formats, and have a backup plan in place in case it's needed at the last minute. We've found that asking the right questions of our clients allows us to provide them the best event, customer, and technical support possible and stay a step ahead of potential problems.
Lastly, as Midwest Meetings has noted, while the country continues to open up, it's important to think ahead – venues and vendors are filling up fast so it's important to schedule in advance before the calendar is booked full. At the OLC, we're also seeing this trend and our 2023 calendar is already filling up (2023 dates will be posted online soon), so we encourage those looking to book to contact us soon.
Regardless of what the world looks like now or in 2023, as a GBAC STARTM accredited facility, along with our dedicated team and reputation for flexibility, we're confident that the OLC will continue to adapt to whatever the world has in store to ensure each event is a success. We look forward to seeing you soon!