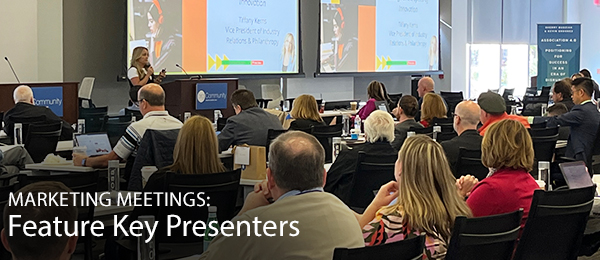 Marketing Meetings in the "NEW" digital age
November 14, 2022
It's no secret that the past 32 months have been complex. The pandemic catapulted industries into a technologically advanced world, that countless organizations were not ready for. Thankfully, many of us have been able to adapt and rebound which is evident by the increase in in-person and hybrid meetings. According to American Meetings Inc., "around 50% of corporate event attendees believe that hybrid events are the right format, as they offer the convenience of virtual events with the benefits of in-person attendance."
How do we use this information to improve our marketing in this new digital age?
Know what attendees are focused on
Safety – The OLC has high ceilings and an HVAC system that uses 100% outside air and MERV 14 filtration.
Convenience – We are conveniently located minutes from O'Hare Airport and downtown Chicago, for meeting groups traveling domestically or from abroad. There are plenty of hotel, dining and entertainment options nearby.
Technology – The OLC has a state-of-the-art, on-site AV production and editing suite and cutting-edge HD AV equipment – including HD projectors and cameras, and large LED presentation screens – all included in room rental
Engagement – Attendees, especially those attending virtually, want to be engaged. We offer Audience Response System (ARS) capabilities, as well as content creation with a live moderator that can be recorded and rebroadcast.
Cost – Many endured financial hardships during the height of the pandemic and are still affected today. The OLC offers competitive pricing which can be reflected in the pricing of your event.
Make sure that these key components are included in your marketing.
Branding
Make sure that your meeting branding is consistent across all in-person and virtual components so that it's easily recognizable. Create sharable, branded images to share on social media and via email.
Include Key Stakeholders
Are there certain people speaking at your event? Are you hosting the event in collaboration with another organization? Ensure that this is clear in the marketing as it may pique the interest of potential attendees. Additionally, those individuals and organizations can help with cross-promotion.
Social Media
Utilize social media platforms such as LinkedIn, Twitter, Facebook and Instagram to market your event. (It's easy to connect to all of the OLC social channels.) Create events and reminders where possible, and regularly post about your upcoming event. Tag collaborators in posts so that they can share with their networks as well. Be sure to include a registration link so that potential attendees can easily navigate to the website. Consider "promoting" or "boosting" posts to reach a larger audience.
Digital Ads
Digital ads allow you to reach your target audience with pinpoint accuracy. Social media platforms and Google Ads give you the advantage of targeting your audience based on demographics such as age, location, preferences, and profession. These ads will allow you to reach new audiences and send qualified leads to your registration website.
Email
Include event information in your organization's newsletters as well as reminders before the registration deadline. If your organization often sends emails externally, include event information with a link in your email signature. Having the email come from a volunteer may make it more personal and increase the open rate.
The OLC has made great strides to adapt and innovate to bring you creative meeting solutions while prioritizing the health and safety of all attendees.
If you'd like to learn more about hosting an event at the OLC and how we can support your marketing efforts, contact us today.