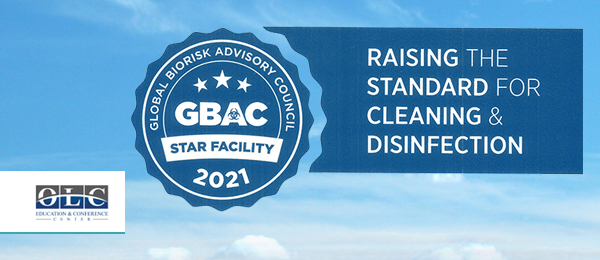 Is Your Event Facility GBAC STAR™ Accredited?
January 25, 2021
According to a recent survey by GES, a global marketing partner to the event planning industry, 88% of respondents say they are open to attending in-person meetings and events. However, attendees want to know what safety measures are in place before making any commitments.
In response to the COVID-19 pandemic, the Global Biorisk Advisory Council® (GBAC) unveiled its GBAC STAR™ Facility Accreditation program on cleaning, disinfection and infectious disease prevention. To achieve GBAC STAR accreditation, facilities must demonstrate compliance with the program's 20 elements, which range from standard operating procedures and risk assessment strategies to personal protective equipment and emergency preparedness and response measures. The performance-based accreditation program is widely regarded as the cleaning industry's gold standard for safe venues.
While many event facilities proactively added additional measures to their preparedness plan during the pandemic, national accreditation ensures that the venue is able to demonstrate that correct work practices, procedures and systems are in place to prepare, respond, and recover from outbreaks and pandemics.
Hosting an event at a GBAC STAR facility reminds your attendees that their health and safety is of utmost importance.
An accredited GBAC STAR™ facility has:
Established and maintained a cleaning, disinfection, and infectious disease prevention program to minimize risks associated with infectious agents like the novel coronavirus (SARS-CoV-2).
The proper cleaning protocols, disinfection techniques, and work practices in place to combat biohazards and infectious disease.
Highly informed cleaning professionals who are trained for outbreak and infectious disease preparation and response
ISSA Executive Director John Barrett recently stated that "in the wake of the coronavirus pandemic, the GBAC STAR accreditation program is exactly what facilities need to confidently remain open and keep staff, customers, and communities safe." He further noted that "the way the world views cleaning has changed overnight. To effectively recover from this crisis and prepare for the next, it's essential that businesses take these necessary steps—and we're thrilled to have a stable of top organizations that have already committed to the program."
It's one thing to say you're prepared and another to prove your commitment to continued safety. Before planning your next in-person event, ask the facility:  Have you achieved GBAC STAR Accreditation?
Want to share your thoughts? Contact the OLC to share your risk assessment strategies. olceinfo@olcevents.com