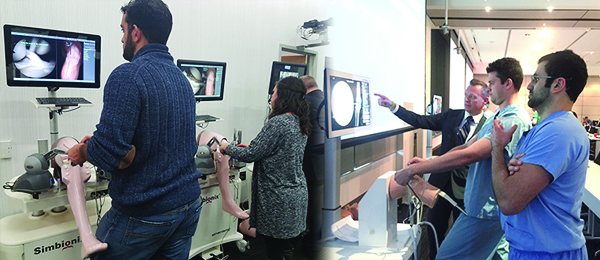 How to Make Experiential Learning Part of Your Medical Meetings
March 8, 2017
When healthcare practitioners take time away from their practice and patients to attend a medical meeting, it has to be for a good reason. Often a prime reason to attend is to learn new skills and advance techniques designed to improve patient outcomes.
And that's where experiential learning – the opportunity to have hands-on practice and experience with what's being taught in the classroom – becomes a concept more medical meeting planners are embracing.
Nichole Bernier recently wrote at PCMA Convene, "Science evolves, research reveals, and things must be taught as efficiently as possible to practitioners and researchers eager to put this new knowledge to use."
The OLC hosted two Arthroscopy Association of North America (AANA) Resident/Fellow courses where experiential learning was a key component of the meeting. Here's how AANA did it – and how you can make it part of your next medical meeting.
Give Physicians Multiple Ways to Learn
Hands-on learning has always been an important part of AANA's courses. Christine DiGiovanni, AANA's Senior Manager, Education, described, "We've always used hands-on wet labs to give physicians an opportunity to practice what they're learning in the classroom. It's crucial for orthopaedic surgeons to develop their skills through experience to achieve successful outcomes."
But this year AANA added a new element to the Resident/Fellow course agenda – virtual reality medical simulators.
DiGiovanni explained, "At our annual meeting we started talking with Simbionix-3D Systems, ToLTech and VirtaMed about the possibility of bringing medical simulators to our meetings." She added, "We thought adding medical simulators would be a great way to give physicians multiple ways to practice and learn skills and techniques."
However, adding additional experiential learning components means determining the best flow.
Determining the Experiential Learning Flow
To accommodate all the hands-on learning, one of the first challenges was finding enough space to accommodate the simulators. DiGiovanni said, "Since the Resident/Fellow courses were already scheduled at the OLC, we had an extremely large and flexible space to support whatever setup configuration we would need."
Next up was finding a schedule to accommodate each attendee to have time with the simulators. DiGiovanni said, "A hospital is lucky to have one or two total simulators in their entire facility." She explained, "We were extremely fortunate each company brought 4 simulators to the courses, for a total of 12 simulators. I've never seen a medical meeting or venue who's been able to handle that kind of arrangement."
The AANA education team developed a rotating schedule where each of the 48 course attendees had scheduled time to work with a simulator on a single arthroscopic procedure. They also had time in the wet lab for additional hands-on practice. The following day they listened to lectures and completed a post-test.
Greg Spitzer, COO at ToLTech, said, "The simulators allowed attendees to work on specific skills at their own pace, which was particularly helpful on the first course day as attendees came in with different levels of experiences."
Another benefit to this flow? Rick Hoedt, Executive Vice President, Business Development at VirtaMed, explained, "From surveys conducted during the course, almost 100 percent of attendees felt that the simulation benefited their learning experience because the skills practiced on the simulator could easily be transferred to real-life situations."
Providing Feedback for Continuous Improvement
As medical meeting attendees are learning new skills or techniques, real-time feedback and insights are especially valuable.
AANA attendees receive feedback from instructors throughout courses. But the simulators provided another mechanism for attendees to receive immediate feedback about their performance. Liat Bergman, Product Manager, Healthcare at Simbionix-3D Systems, said, "The simulators provided performance metrics, which enabled each attendee to quickly evaluate their performance at the end of the procedure."
The addition of the simulators paid off. DiGiovanni said, "Because of the overwhelming positive response to the enhanced format with the simulators, we're looking to incorporate more of this kind of experiential learning in the future."
If you're looking to add more hands-on learning to your medical meeting, keep these tips in mind:
Make sure the physical venue/room is large enough to accommodate everyone and all necessary equipment.
If needed, stagger the schedule so each attendee gets hands-on time.
Survey attendees about what they liked – and what could be improved – to fine-tune future experiential learning activities.
Looking for a venue that can support experiential learning in your next medical meeting? Contact the OLC to book your next event!