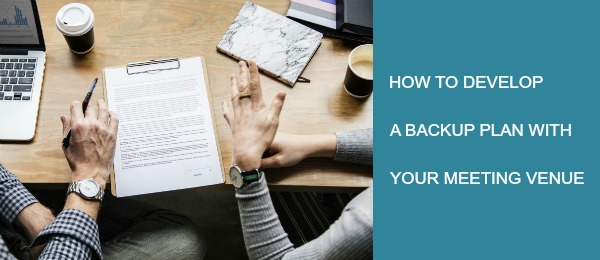 How to Develop a Backup Plan with Your Meeting Venue
July 19, 2018
"Whatever can go wrong, will go wrong."
There's a reason why Murphy's Law is still a popular adage. Many planners have learned the hard way to have alternative plans in case something goes wrong – whether it's for a minor inconvenience like printing a new attendee badge on-site or a major mishap such as a speaker no-show.
It's just as important to work with your meeting venue to have a backup plan for life's unexpected curve balls. Here's how:
1) Prepare for Common Mishaps
No matter the best-laid plans, there are always factors beyond the control of both you and the venue. Preparing for possible common mishaps minimizes disruption and stress for everyone if something unexpected does happen.
Work with your venue on how to handle common issues like these in case they arise:
Lack of parking: Establish designated locations for overflow parking and have signage at the ready to direct attendees where to go.
Food and beverage shortages: There's a fine line between ordering just enough and running out. Ask your venue to help you determine the right amounts to order. If you run into a case of very hungry or thirsty attendees, ask your venue what kinds of options would be available on short notice.
No-show vendor: Transportation occasionally breaks down or inclement weather disrupts plans. Talk to your venue about a list of backup vendors that you can call on in case of an emergency.
2) Focus and Prioritize on High-Risk Scenarios
It isn't feasible to have a backup plan for every little thing that can go wrong during an event or meeting. Work with your venue to differentiate between two types of scenarios:
Issues that would cause a big impact if they were to go south, like any possible problems related to attendee safety and security.
Items that could be a nuisance, such as not enough power outlets or bathroom lines.
Neither scenario is desirable, but one is dramatically worse than the other. As part of your backup plan with the venue, focus on high-risk scenarios.
3) Ask the Venue's Contingency Plans
Ask your venue to share their security protocols and contingency plans, such as:
Contingency plans in case of a power loss. Does the venue have emergency generators, and if needed, what power will remain on [like stairwells, elevators, exit signage, etc.)?
Protocols in case of an unexpected medical emergency. Have the venue identify how and where emergency responders, paramedics or fire personnel will come into the building to maintain privacy and keep disruption to a minimum.
Evacuation plans and locations of exterior rally points.
4) Establish a Communication Chain of Command
You may have a communication chain of command within your own internal team, but don't forget to loop venue staff into those plans. As part of the chain of command, it's important to establish who decides if the backup plan needs to be implemented.
As an example, if something unexpected happens like a venue power loss, who needs to be identified on your team? Or if you have a scenario requiring a response from local emergency officials, who from the venue is designated to make those calls?
One helpful tool we've seen used is distributing a laminated card to all key internal and venue staff with a detailed listing of contact names and numbers, and who to notify about what kind of issue.
5) Communicate the Plan
It's important for everyone – executive management, speakers, attendees, internal staff and vendors – to know that there is a backup plan and in what kinds of situations it could be implemented.
If the backup plan needs to be activated, tell all stakeholders and attendees how and when they'll receive information – whether that's through announcements over the public address system, texts or other forms of notification. Remember: there's no such thing as over communicating.
No matter how well every detail is planned and the number of precautions put in place, creating a backup plan with your venue keeps it any unexpected issues that could arise from becoming a disaster.
Looking for a venue for your next meeting? Contact the OLC to learn more!