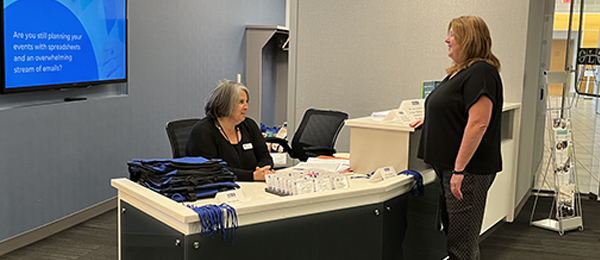 Elevating Event Experiences: The OLC Concierge Service
May 26, 2023
At the OLC Education & Conference Center, we believe that exceptional event experiences go beyond stunning venues and state-of-the-art technology. We understand that every event is unique and requires personalized attention to detail. That's why we take pride in highlighting our OLC Concierge Service, a dedicated team committed to delivering unparalleled support and assistance to ensure every event is executed flawlessly.
Understanding the Role of the OLC Concierge Service
Our OLC Concierge Service is a team of seasoned professionals with extensive event planning expertise. From the moment you begin your event journey with us, our concierge team becomes your trusted partners, guiding you every step of the way. We pride ourselves on taking a personalized approach, tailoring our services to match your specific event goals and requirements.
Unparalleled Support from Start to Finish
When you choose the OLC, our concierge team becomes an integral part of your event planning process. From the initial consultation to the post-event follow-up, our concierge professionals are dedicated to ensuring a seamless and stress-free experience. Here's how our OLC Concierge Service can elevate your event:
Expert Guidance and Recommendations:
Our concierge team has extensive expertise about our facilities and services. They are equipped to offer expert advice and suggestions tailored to your event goals, empowering you to make well-informed choices and orchestrate an extraordinary event that exceeds all expectations. Within our team, we have a Digital Event Specialist who specializes in coordinating suitable AV equipment and HD Broadcasts for hybrid meetings. Additionally, we have a certified Healthcare Meeting Compliance expert who ensures that medical meetings adhere to regulatory and Continuing Medical Education (CME) Requirements, and assists in identifying the necessary equipment.
Streamlined Logistics and Vendor Management:
Event logistics can be complex, but our concierge service can help both those new to event planning and management and seasoned pros. From coordinating with vendors and managing timelines to overseeing event setup and teardown, our team will handle the logistics, allowing you to focus on what matters most – delivering a memorable event experience.
Personalized Events and Customization:
We recognize that each event has its own distinct needs and specifications. Our concierge team collaborates closely with you to comprehend your vision and assist you in planning and timing various aspects of your event. They provide guidance on logistical considerations such as the duration required for room changes during breakouts or transitions from auditoriums to labs. They also help determine food requirements, including breaks and preferences for coffee service working with our caterer Northern Fork. Additionally, they can recommend enjoyable options like food trucks or locally-based food choices for breaks, as well as our go-to for ordering Chicago-style pizzas.
Seamless Guest Experience:
At the OLC, we prioritize the comfort and satisfaction of your guests. Our concierge professionals are dedicated to providing exceptional service to attendees, assisting with registration, wayfinding, and any special requirements. From greeting guests with a warm smile to ensuring their needs are met throughout the event, we go the extra mile to create a welcoming and memorable experience for all.
When you choose the OLC, our concierge service becomes an invaluable asset, working tirelessly to transform your event vision into a remarkable reality. With their expertise, attention to detail, and unwavering commitment, our concierge team ensures that every aspect of your event is flawlessly executed.
Elevate your event experiences with the OLC's dedicated concierge service, and let us exceed your expectations.
Contact us today to get started.