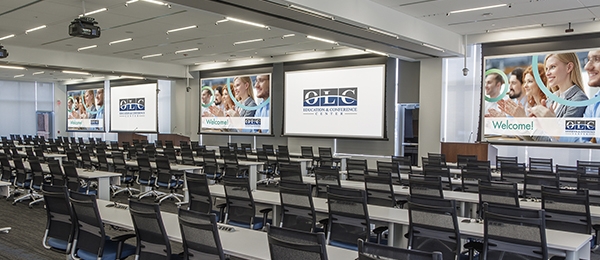 AI, Innovation and the OLC Advantage
November 15, 2023
The US Conference and Event Industry is forecasted to reach an astounding $660 billion by 2030. This surge is fueled by the industry's increasing appetite for new technologies, precipitated by artificial intelligence (AI)'s breakout year. And according to the latest sector research – it's not just growing – it's experiencing a paradigm shift.
The latest McKinsey Global Survey reveals a swift adoption of AI tools, pointing to a significant shift in organizational and consumer priorities. The event industry specifically is embracing AI as a catalyst for innovation. Major stakeholders such as associations, business organizations, and non-profits are already leading the charge: investing in new technologies and tech-forward experiences.
Amidst this backdrop, planners find themselves at a crucial juncture where successful events demand a strategic emphasis on attendance, value, and now, innovation. With tighter budgets and economic uncertainty, event organizers are pressed to deliver impactful experiences that justify the investment. The trend is clear—attendees are becoming more discerning, seeking events that offer tangible benefits as well as social proof. In turn, planners are increasingly turning away from conventional hotels and toward purpose-built, creative spaces like the OLC to stand out.
From its inception, the OLC has consistently embraced cutting-edge advancements, evolving into an experiential space that resonates deeply with some of the world's leading organizations. It's more than just a venue, it's strategic asset. Here are several key advantages that can significantly impact your next event:
The Canvas of Possibilities
The OLC offers a canvas of 14,000 square feet, allowing you to mold and shape your event into a bespoke experience that aligns with your vision. This includes a multi-purpose auditorium for up to 180 people, spacious hands-on labs, conference rooms, and more.
Tech-Infused Space
Elevate your event with our state-of-the-art capabilities. Unlike venues grappling with outdated tech, the OLC is fully equipped for truly immersive experiences. Whether it's global live-stream sessions, thought-provoking panels, or even groundbreaking robotics surgeries, we've got you covered.
Convenience at Your Fingertips
Situated just minutes from O'Hare, the OLC serves as a central meeting point for both local and international attendees. Additionally, its convenient proximity to downtown Chicago offers easy access to exciting attractions and world-renowned restaurants. No more constraints imposed by distant or inaccessible locations, ensuring a hassle-free experience for all.
Flexibility for Every Vision
Say goodbye to the limitations of cookie-cutter venues. Our flexible environment empowers you to confidently explore a variety of event formats tailored to your needs. Whether you're hosting a conference or diving into a hands-on bio-skills training, our facility is ready to bring your vision to life.
OLC Concierge Team
At the OLC, we go beyond just providing event space – we offer a dedicated full-service concierge to meticulously handle every detail. Whether you're an experienced planning professional or new to the process, our team is committed to ensuring the success of every aspect of your event. With us by your side, you're in good hands.
The OLC Amenities & Services
Choose a venue that's equipped to handle your needs – venue can make or break an event. The OLC seamlessly blends modern aesthetics, comfort, and privacy to provide an extraordinary experience. Enjoy the exclusivity of each event, escaping the hustle and bustle of shared spaces during peak seasons. The importance of choosing the right space cannot be overstated. Don't hesitate to reach out and explore the possibilities at the OLC.