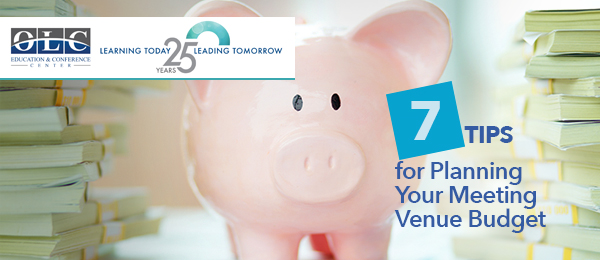 7 Tips for Planning Your Meeting Venue Budget
August 27, 2019
The meeting budget.
It may not be a planner's favorite to-do. But managing and tracking costs helps planners make smarter decisions to align with overall meeting goals and objectives and keeps spending under control.
A meeting venue budget includes many different types of costs, some fixed and others variable. Typically one of the largest fixed budget items is the venue rental, which on average accounts for 30 percent of a planner's budget.
Keep your meeting venue budget on-track and avoid any surprises by following these seven budget planning tips.
1. Identify what your venue rental exactly includes
As you plan your meeting, work with the venue manager to understand all of the items covered by your rental fee agreement.
For example:
Set-up fees
Meeting/function room rental
Provided tables, chairs, furniture and AV equipment
Security deposit
Parking
Housekeeping/cleaning
Deliveries/handling
2. Assess extra fees
Once you've determined what is provided, assess potential additional fees and allot money to cover extras that may come up, such as:
Union/labor charges (straight and overtime)
Cancellation fees
Insurance costs (check to see if/what insurance your venue provides and determine extra coverage needed to protect meeting attendees and your company)
Damage fees
Any applicable taxes and license fees
3. Work out WiFi coverage and costs
Meeting attendees expect accessible and fast WiFi throughout the entire venue. Find out if WiFi is included, and if so, if the speed is enough for your meeting.
If WiFi isn't included, or you need additional bandwidth, detail out the costs to add more coverage, including in public networking or outdoor spaces if appropriate.
4. Take control of the A/V costs
More venues, like the OLC, use an inclusive model for standard A/V equipment, which makes it easier to manage the meeting venue budget.
If your venue rental includes A/V, check:
Does it include A/V include projectors, switchers, microphones and screens?
What about lighting?
Is labor included?
What about set-up and rehearsals?
And if you need specialized equipment, such as equipment for a livestream, ask for a detailed pricing estimate.
5. Factor in food & beverage
This budget item is a bit trickier since costs increase as your attendance list grows. Beyond the actual food and beverage cost per person, look for other costs that can drive up your budget:
Any minimum order requirements
Tax and service fees/gratuities
Corkage fees
Bartender/server labor fees
6. Plan for décor and staging
If you're incorporating your brand or event theme into the meeting, don't forget to budget for additional décor items to enhance what is already included in the venue rental.
Typical additional décor budget items include:
Draping, linens, table skirting or chair covers
Accent lighting
Floral decorations
Table decorations and centerpieces
Podiums
Risers and/or other staging elements
7. Leave an emergency fund
Of course, despite your best planning, you can't predict what will happen in the days leading up to a meeting.
By working approximately 5-10 percent of your total budget into an emergency fund, your budget will have the breathing room to absorb unexpected costs, like a speaker's last-minute A/V request or additional food and beverage to cover last-minute registrations.
Conveniently located near O'Hare for easy travel, the OLC is a multi-functional venue designed for corporate, medical and association events. Contact us to learn more about our turn-key pricing and concierge service to keep your next meeting on budget.