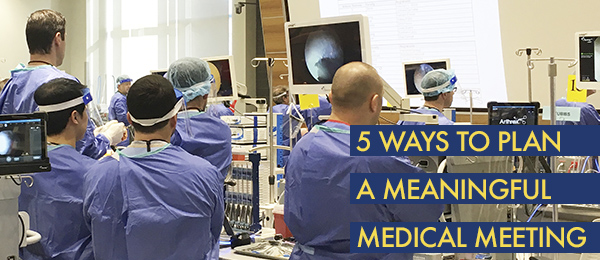 5 Ways to Plan a Meaningful Medical Meeting
September 18, 2018
In Ashfield Meetings & Events' 2018 The Science of Healthcare Professional Meetings study, more than three-quarters of HCPs said they would only participate in a meeting that can show a good return on their investment of time and money.
With it becoming harder for HCPs to take time away from their practices, here's a look at five ideas for planning a meaningful medical meeting.
1. Combine Learning and Networking
In the study, nearly 75 percent attend to network with colleagues or other specialists, and 68 percent say they attend to meet with global experts and key opinion leaders.
Combine learning and networking to increase the educational value of interactive workshops and hands-on training sessions by pairing attendees with an experienced mentor. For both beginners and advanced learners alike, this type of mentoring format is conducive to learning new medical skills while also fostering connections with fellow colleagues.
​
2. Add Interactive Learning
Seventy-six percent of survey respondents believed more workshops and interactive sessions would increase the educational value of a meeting.
Rather than only offering PowerPoint-heavy lecture formats, switch things up with new formats designed to better engage attendees and appeal to different learning styles. For example, offer small-group discussions or roundtables to spark discussion and debate.
​
3. Provide New and Interesting Content
Eighty-one percent of survey respondents said they go to meetings to learn what's new within their disease specialty, and 72 percent said they attend to find out about the latest products in their disease area.
When you consider that a good deal of information can be found online, make a medical meeting more meaningful by focusing on new and exciting content – especially as it relates to attendees' practice areas.
And as a full 85 percent said sessions should be kept short and impactful, move beyond the days of long PowerPoint-driven lectures. The Ashfield study found that 45 percent of survey respondents believe meetings don't have enough of the workshops, small-group discussions and other interactive elements they're looking for – even though more than three-quarters said interactive sessions would increase the meeting's educational value.
​
4. Offer Convenience
With heavy workloads, time away from practice is a big concern for HCPs. According to Ashfield's research, HCPs said they wanted their time commitment – including travel – to be just 3.2 days. They also don't want to travel as far, saying they only want to spend 4.7 hours to get to a meeting.
As PCMA reports, as time-strapped physician attendees look to maximize time spent traveling, hotels and event venues near airports are becoming a bigger draw. Pat Schaumann, senior director of health-care compliance at Maritz, told PCMA. "It's easy to get in and out, which is a big selling point for physicians who don't want to be away from their practices for a long time."
​
5. Ask What HCPs Want
It sounds so easy, but medical meetings can be made more meaningful simply by asking HCPs what they'd like their experience to be.
Eighty percent of respondents said they wanted to help shape the event to meet their needs – but 38 percent said they had never been asked for their input. Gather feedback through informal Q&A with attendees throughout the event, simple post-meeting surveys, formal research channels or an advisory board.
But don't be overwhelmed with the idea of gathering and analyzing feedback. Start gathering what feedback you can and build from there. A little information goes a long way to make medical meetings more meaningful – and keep attendees coming back.
Looking for a medical meeting venue that's convenient to a major airport hub and is home to an advanced hands-on bio-skills lab?
Contact the OLC to learn more!