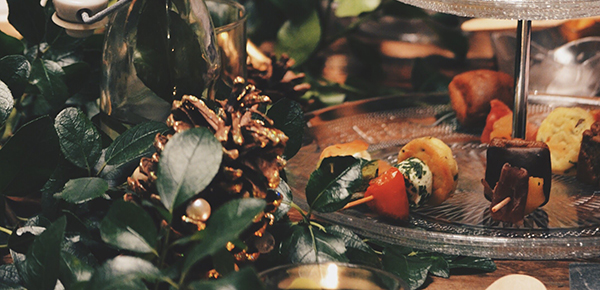 4 Hacks to Ease Planning Year-End Appreciation Events
August 29, 2018
'Tis the season to start thinking about year-end celebrations – especially employee, customer and volunteer appreciation and recognition events.
Recognition events like these are a great way to motivate and engage employees, and thank customers and volunteers for their contributions. But when they fall at an already hectic time like the end of the year, who couldn't use a little extra help to make planning easier?
Leave the stress behind and spend time actually enjoying the holiday season with the help of these four year-end appreciation event planning hacks.
1. Be Flexible
Who says your appreciation event has to be at year-end? After all, there are only so many available dates at the end of the year and it's hard enough to find a date that works with your internal team's schedules. On top of it, your guests' calendars are likely loaded with other events, family obligations and additional holiday-related plans.
So get flexible – flexible with the type of the event and the timing.
Perhaps guests will be more available and appreciative of a breakfast or luncheon event instead of a cocktail party or dinner. Hosting an event earlier typically lowers costs and reduces obligations on employees' personal time and commitments.
Or think about other times of year too. Early October and mid-to-late January can be great alternative times to hold an appreciation event because typically more guests are available to attend.
2. Book a Venue Early
All too often appreciation events – especially for employees – happen in the office. This may or may not continue to be feasible because of space constraints. And it may not have the same effect or atmosphere as hosting guests at an off-site venue.
If you decide to host your event at an outside venue, book early! Venues are typically in high demand throughout the year-end season.
You'll have the best date availability the earlier you start the venue sourcing process. Plus, if you're looking at days and times beyond evenings in December (which tend to be the most expensive), you'll likely save money on catering and other expenses.
3. Go All Inclusive with A/V
Sourcing, coordinating and booking an A/V vendor often adds extra time and stress. So rather than adding to an already long to-do list, look for a venue with A/V included.
You'll save the hassle of planning equipment needs and all the back and forth correspondence about equipment compatibility, and set-up and dismantle schedules will be eliminated too.
4. Get Creative with Food & Beverage
With so many guests having dietary preferences and restrictions, it can be a challenge planning a menu that satisfies everyone's needs.
Rather than defaulting to the same food and beverage set-up you've always used, think creatively to make your menu planning easier:
Instead of a full bar, come up with three or four hand-crafted signature cocktails and mocktails for guests to sip.
Get attendees to mix and mingle with several mini food stations instead of seated meals. Think self-serve, small bites that allow guests to taste local dishes, trendy foods or classic throwbacks. Offering multiple options also makes it easier to satisfy vegetarian, vegan, gluten-free and even Kosher or Halal dietary restrictions.
Banish the boring menu with a food truck or similar "pop-up" food experience. Guests will enjoy the extra treat surprise. And planning is easier because food trucks are used to frequently rolling and setting up in new locations.
Ready to start planning your year-end appreciation event? Talk to the OLC about our turn-key concierge planning services that take the stress out of planning any event!