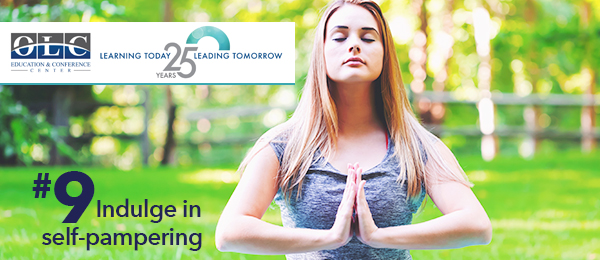 28 Ideas for Doing Good for Yourself and Our Communities
April 27, 2020
"True hospitality consists of giving the best of yourself to your guests."
– Eleanor Roosevelt
For many in the meeting and event industry, one rewarding aspect of our work is giving to others – whether that's customers, co-workers or the industry as a whole.
But when our ability to be creative, serve others and create memorable experiences is on pause, it's hard letting go of that innate hospitality mindset.
We created a list of 28 ideas for #eventprofs and #meetingprofs to do good for communities and practice self-care at the same. And while this list is a good starting point, it doesn't include every possible resource or organization needing support.
Remember: we're all in this together, and we're stronger together.
PRACTICING SELF-CARE
1. Practice mindfulness: Several times a time, spend a few minutes taking a few extra deep breaths, clearing your mind, listening to an upbeat song or podcast, calling a friend or colleague, or undertaking any other activity that helps you feel more grounded and centered.
2. Get active: Following local guidelines, get moving – even if it's a few minutes at a time around your neighborhood or using one of the many free at-home exercise apps.
3. Video chat with family and friends: With all the social distancing, it can get lonely – especially for those who live alone or are self-isolating. Set-up a time for group FaceTimes, Zoom get-togethers or Google handouts.
4. Try a new recipe: Cooking and enjoying a home-cooked meal nourishes the soul – both literally and figuratively.
5. Laugh: From a funny meme to an old-fashioned rom-com to whatever else tickles your funny bone, in addition to pushing the stress aside, some studies have reported that laughing for fifteen minutes a day extends your overall lifespan.
6. Set a time to disconnect: When homes become virtual offices, it's harder to limit work time. Establish start and end times and try to honor those times to step away and re-charge your batteries.
7. Create a positivity journal: As negative news dominates the headlines, the good stories can get lost in the mix. Spend a few minutes each day reflecting, noting and jotting down a few positives from the day.
8. Explore a new creative hobby: Baking, sewing, knitting, puzzles, coloring and many other creative outlets are resurging in popularity. If you've always wanted to try one of these hobbies, now is the time!
9. Indulge in self-pampering: Favorite salons or spas may be temporarily closed, but you can still practice a little self-pampering at home with DIY face masks, scrubs, relaxing salts or yoga.
GIVING BACK TO OUR COMMUNITIES
10. Give blood: With many local blood drives canceled, the nation's blood supply is dangerously low. There are many ways to give blood safely. Find a blood drive near you through the American Red Cross or America's Blood Centers.
11. Donate medical supplies: You've likely heard about personal protective equipment (PPE) shortages facing frontline healthcare workers. You can make donations to MedSupplyDrive, which is helping organize donations of protective supplies across the U.S.
12. Help frontline workers: The Centers for Disease Control and Prevention Foundation strengthens the CDC's work to supply immediate supplies and emergency staffing to state and local communities responding to COVID-19.
13. Support local food banks: Demand is high and supplies are low. Find a local food bank and contact them to see what is needed most.
14. Feed families, seniors and frontline workers: The World Central Kitchen and the #ChefsForAmerica initiative are working directly with restaurants to provide meals to those who need them most while putting those businesses back to work too.
15. Give to vulnerable communities: Homeless individuals and families are especially vulnerable. The Salvation Army has a fund to assist with food and utilities and to provide safe shelter to those affected by the crisis.
16. Support small businesses: Purchase gift cards now from local restaurants and shops to use in the future.
17. Keep kids learning: Donate to help kids who don't have internet access or home libraries to keep learning.
18. Fund scientific research: Support the development of methods to better detect, diagnose, treat and prevent the manifestation of COVID-19.
19. Order books from independent bookstores: #SaveIndieBookstores by finding a local bookstore to order from, or donate to the emergency fund set up by the Book Industry Charitable Foundation.
20. Keep the food and beverage industry going: The James Beard Foundation has started a Food and Beverage Industry Relief Fund to provide micro-grants to independent food and beverage small businesses in need. The United States Bartenders Guild is offering emergency grants for bartenders, their spouses or their children through the Bartender Emergency Assistance Program.
21. Donate hand-sewn face masks: While not a substitute for medical PPE, many individuals and organizations need fabric coverings to protect their vulnerable communities. If you have a sewing machine, sew cloth masks to donate.
22. Contribute overstock: For organizations with surplus supplies, the National Association for the Exchange of Industrial Resources collects overstock inventory from businesses and distributes them to schools, nonprofits, and churches in exchange for a tax break.
23. Check-in: If you have elderly neighbors or friends, call them to see how they're faring. Offer to help with non-contact chores, like putting the trash out, getting the mail or mowing the lawn.
24. Write letters: Call or email local senior centers, memory care centers or nursing homes in your area and let them know you'd like to write letters or send cards. Ask friends and neighbors to join in to shower residents with cards!
25. Deliver food: Help senior citizens in your community by delivering food through Meals on Wheels.
26. Shop for neighbors: If elderly or immunocompromised neighbors or healthcare friends are unable to go grocery shopping, offer to do their shopping or run other errands for them – with contact-free pick-up and delivery, of course!
27. Help furry friends: Pet adoptions are at an all-time high and many shelters and rescues are empty for the first time in their history. Resources are still needed – whether to foster, provide supplies, or lend a hand to owners or those with underlying health issues that prevent them from getting out.
28. Be a mentor: Volunteer and share your spare time, skills and knowledge with nonprofits.
The time will return when we're welcoming meeting and event attendees again and those valuable face-to-face connections will resume. In the meantime, there are many ways to do good for ourselves and our communities.