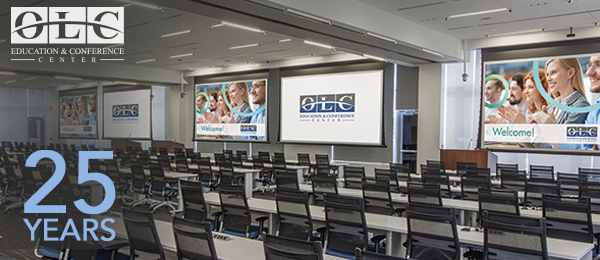 25 Years of the OLC: A Look Back and A Look Ahead
March 1, 2019
The OLC's hometown of Rosemont has long been a major center for corporations, entertainment and business activities due to its close location to several interstates, O'Hare International Airport, and downtown Chicago.
Back in the 1980s, to add to Rosemont's growing reputation as a meeting destination, several of the Village's larger professional healthcare associations recognized the need for a dedicated education and hands-on surgical training venue for members. After years of planning, the original Orthopaedic Education & Learning Center (OLC) opened its doors in 1994.
It's hard to believe how quickly time flies. Not only did we outgrow our original space and move to a new larger state-of-the-art meeting and event venue back in 2015, but this year also marks the 25th year of the OLC.
Today, the OLC plays host to thousands and thousands of attendees and hundreds of meetings and events each year.
Here's a roundup of just a few highlights how the OLC has grown during our first twenty-five years:
We wouldn't be celebrating these milestones and 25 years without each and every one of our valuable supporters and partners. On behalf of the entire OLC, thank you.
We appreciate your support and look forward to another 25 years (and more)!