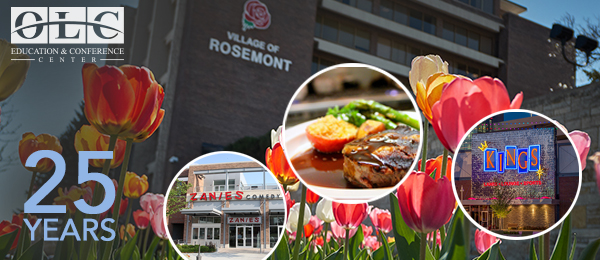 11 Rosemont Resources for Your Next Medical Meeting or Corporate Event
April 3, 2019
Located just minutes from O'Hare Airport and downtown Chicago, Rosemont has long been a popular destination for medical meetings, association events and corporate meetings.
Rosemont is not only home to the OLC, a state-of-the-art medical meeting and corporate event venue, but also a wide variety of hotel, dining and entertainment options – making it an ideal destination.
If you're planning a medical meeting or corporate event in Rosemont, read this helpful guide of all there is to see and do for small and large groups. Your event and meeting attendees will thank you for giving them a great experience.
Dining
Entertainment
There is much more to see and do in Rosemont. Check out the area's local amenities or contact a member of our concierge planning team for other Rosemont resources to make your next meeting or event the best one yet.